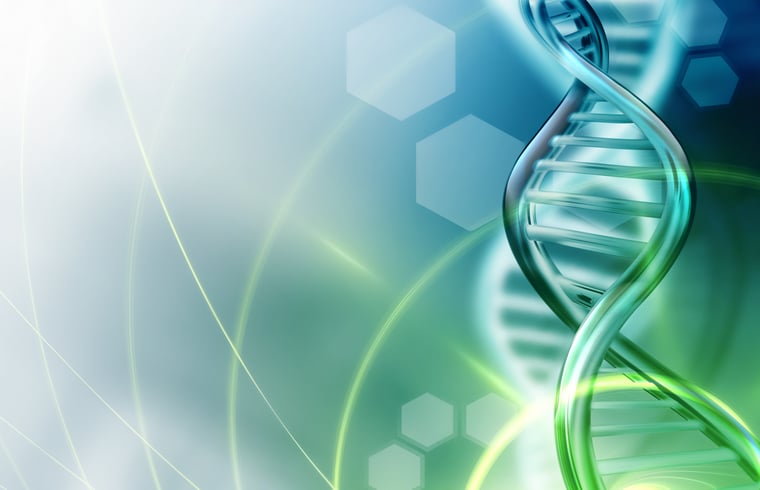 With the advancement of technology and introduction of the IoT, the role of AMI and Smart Grid solutions in utilities is changing. Demand is increasing for more advanced connectivity and flexibility, as the solution must serve a large number of interconnected systems and integrate millions of intelligent devices with various communication protocols. This is why Landis+Gyr has introduced a new IoT SW platform.
In a constantly changing operating environment, energy utilities require infrastructure that can flexibly adjust to evolving market needs. More importantly, they're looking for future-proof solutions that enable modern energy solutions and integration with new applications to serve their business strategies and growth.
To drive the transformation to a Utility IoT era, Landis+Gyr is introducing a new software platform that takes connectivity, modularity and service-oriented architecture to a completely new level, enabling flexible integration with new applications to serve utilities' business strategies and growth.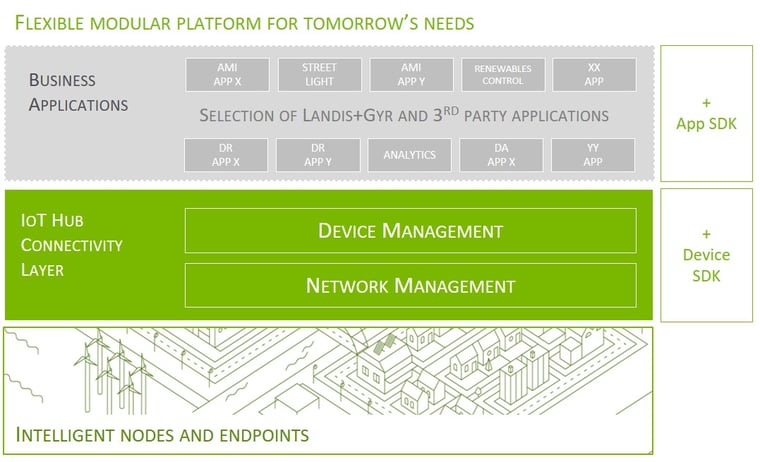 Hybrid cloud strategy for smooth transformation
In today's digital transformation, cloud-based solutions have become a true strategic imperative, and they are also changing the way energy systems are operated. Cloud computing and cloud-hosted storage enable greater business agility and data capabilities, as well as an enhanced customer experience.
The new IoT platform builds on a cloud-based central repository solution that will eventually centralize all endpoint data needed for core utility business processes, such as billing and customer engagement, asset management and grid operation support. To enable an optimal solution for customers' environment, IoT software platform development is based on a hybrid cloud integration strategy that enables management of both cloud and on-premises installations.
Centralized data asset empowers intelligence
The massive volumes of data supplied by millions of connected intelligent endpoints will only create value when transformed into actionable insights and data-based analysis, planning and diagnostics.
The centralized data asset offering of Landis+Gyr's solution can be extended with third-party solutions for real-time data stream processing and analytics as well as machine learning. With a cloud-based, modern IT architecture it will be possible to establish a low-code, work-flow-enabled infrastructure backed by off-the-shelf rich data visualization.
As an example, data can be collected and analyzed in real time using a pre-configured remote monitoring solution that triggers automatic alerts and actions. Analysis of real-time streaming data helps to predict equipment failures before they happen. In a cloud-based IT infrastructure without actual HW infrastructure to manage, the use of advanced analytics and data processing can be scaled on-demand instantly according to real usage.
Adding value in an ecosystem
Tapping into the full potential of the rich data asset and driving the business transformation in the energy sector requires a well-working open ecosystem. Landis+Gyr's IoT SW platform is designed to enable the creation of high-value applications and innovations together with energy utilities and partners.
Landis+Gyr's open platform approach is based on robust and concrete APIs (Application Programming Interface). They help insulate from complexities and lower the total cost of ownership by enabling seamless integration and non-disruptive change within the customer's enterprise application environment.
The new IoT platform of Landis+Gyr enables extending the ecosystem on various levels. Whereas the Application SDK (Software Development Kit) enables application developers to create high-value applications on top of the rich data asset, the standards-based device SDK allows the introduction of new edge-intelligent endpoints and protocols in the utility's infrastructure.
Landis+Gyr's IoT Hub solution offers an SDK to third parties with a basic set of APIs in the first phase. It makes it possible to bring in new devices and import coordinates to the system, to find and view devices and data points at their exact locations, and to manage basic device operations.
Building on a connectivity layer
The core of the software platform builds on a thin connectivity layer that is accompanied by efficient tools to manage and monitor the intelligent nodes and endpoints in the utility network. This IoT Hub is a network configuration, a connectivity and network-performance-monitoring tool to help in every step of network management – from registration, firmware updates, status monitoring and troubleshooting to device removal and end of life. It enables easy visual tracking and monitoring of network performance at a glance. The interactive, map-based user interface helps keep track of alerts and events occurring in the network and quickly detects connectivity issues.