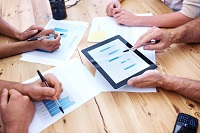 Choosing the right kind of smart metering solution is a crucial strategic decision for utilities to take as an initial stage of their smart meter project planning. When drafting the tender for a smart metering rollout, a utility's leadership team must be prepared to answer two basic, but very important questions: What can we do ourselves? What must we subcontract and have others do for us?
The range of available devices, software and vendors is broad, as is the spectrum between the two extremes, namely the component and the turn-key solution. Utility customers can buy all the components for their smart metering solution separately and manage the rollout and the software integration themselves, or they can opt for a turn-key solution and, for instance, rely on a subcontractor to manage the project in its entirety. There is no right or wrong way of approaching a complex project like a smart metering rollout, but it is important to understand that choosing the right approach depends on a number of factors. "Usually, size and manpower play a very important role from the utility's point of view," says Xavier Ringot, VP Smart Metering Solutions Center, Landis+Gyr EMEA.
Clarifying expectations
Implementing an advanced metering infrastructure means a lot more than just installing a new set of devices and software; it is a transformation project that will affect the entire utility. That's why Xavier Ringot says: "At the beginning of the conversation with a utility's executive team, we talk very openly about their expectations and what it takes to realize them." At this stage, Ringot usually emphasizes that he doesn't take sides in terms of whether it'll be better to choose a comprehensive, pre-integrated solution like Landis+Gyr's Gridstream® Suite or to opt for a component solution. If the utility has the available manpower and in-house expertise, a tailor-made component solution might be the right choice.
"You can compare the process of developing a smart metering strategy to the process associated with building a house: if you are an architect and your partner is an engineer, buying components and overseeing the whole construction process yourself can be the best choice and you can build the house of your dreams," illustrates Ringot. "But if you don't have time, the necessary training and there is nobody to help you, relying on a robust, tested solution like Gridstream is a much safer choice." Another important aspect that utility's need to consider is of course Total Cost of Ownership. Smart meter parks have a life-cycle of 20 years or more and an initial investment in quality pays off in the long-run. Looking at the long-term, maintenance needs have to be considered, too. Interoperable meters are the best insurance against failing vendors and ensure the availability of parts.
Landis+Gyr has gathered experience working with various types of projects, on the one hand helping the French utility, ERDF, to realize its tailor-made dream solution while simultaneously delivering on a large number of turn-key projects throughout Europe on the other. In the front-running Nordic countries, for example, the majority of smart metering rollouts were by handled by one main subcontractor. One of the latest examples for a successful Gridstream turn-key project is the story of Ericsson Eesti and Elektrilevi OÜ of Estonia, wherein Landis+Gyr, as the main partner of Ericsson Eesti, is responsible for providing the smart metering infrastructure for the project, including the smart meters, data concentrators and the head-end system (HES). Ericsson Eesti is responsible for the project and its implementation. Ericsson will also integrate the smart metering system into Elektrilevi's systems. The Finnish operations of Landis+Gyr, Landis+Gyr Oy, will deliver approximately 630,000 smart household meters and just over 10,000 data concentrators.