Landis+Gyr, a global leader in energy management solutions, has taken part in the 2016 edition of the InnoGrid2020+ conference co-organized by the European Distribution System Operators organization for Smart Grids (EDSO for smart grids) and the European Network of Transmission System Operators for Electricity (ENTSO-E) which took place in Brussels on 27- 28 June. Innogrid2020+ is the annual premium event in the electricity sector where over 300 policy makers, representatives from the industry, research and development and other energy associations engage in a debate about the future of the power system. This year's discussions evolved around digitization and its impact on the energy sector.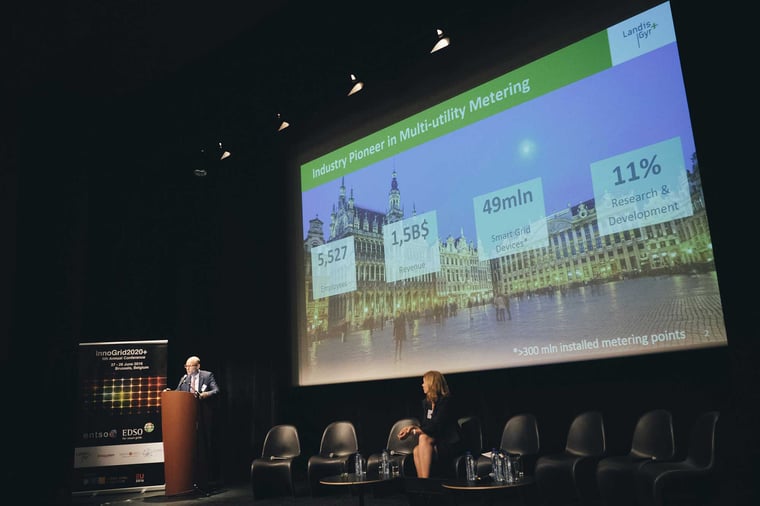 Landis+Gyr was pleased to participate in InnoGrid2020+ with the keynote speech on 'Grid Digitization: Facilitating the Future Energy Market Model' by Patricio Villard, VP Sales Energy Solutions, and an exhibition stand showcasing its distribution intelligence solutions for MV/LV monitoring and control, energy storage and grid analytics. In light of ongoing transformation of the power system, Landis+Gyr finds it important to be actively involved in discussions around the future of the energy sector and help its utility customers navigate the complexity of advanced grid infrastructure and technology evolution.
Digitilization is a megatrend and a driving force in accelerating the development of new technologies and consumer-centric services supported by the prospect of increasing economic benefits to businesses ultimately in every industry.
The development of the future energy market model will be driven by the emerging energy infrastructure (PV, wind farms and heat pumps) and the underlying ICT technologies enabling grid digitization. These two technology innovation paths will lead to a system-wide transformation, redefining the value of the energy ecosystem all together. While operating fully digitized grids, utility companies will play the role of key market facilitators by empowering end users and building up a more intelligent grid in a cost efficient way.
There is a general consensus across the industry that end consumers are to become active participants of the energy system through participation in demand response programs and microgeneration. To facilitate this development, system operators need to increase transparency of the electricity market data. Smart meters will serve as the core element in household energy sensing and bringing the price signal to the end user.
At Innogrid2020+, interaction between the key market participants and regulatory framework remained the important topics for discussion among industry influencers. They agreed that regulation should play a key role in fostering innovations in the new power system. The European Technology and Innovation Platform smart networks for the energy transition (ETIP snet) was launched during the conference, and it will act as a new advisory environment for research and innovation, replacing the industry-led European Technology Platforms (ETPs). 2016 will be a year of delivery of the new EU energy legislative packages that would aid to address the current industry challenges and expedite the development of new technological innovations for future digitized grids.
Impressions from the InnoGrid2020+: