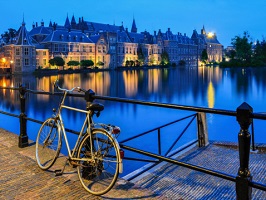 For the first phase of the nationwide rollout of smart meters in The Netherlands, Landis+Gyr has supplied smart electricity and gas meters to all Dutch DSOs.
Dutch grid operators are obliged to offer all residential customers a smart meter for both gas and electricity, while customers have the right to opt out. To gain experience of implementing smart meters, and to carefully monitor the process in its early stages, the initial – small-scale – rollout is limited to meter replacements and installations in newly built and renovated houses.
The DSOs joined forces in a 'Smart Buying' project for this first stage. As a successful bidder in the respective categories for electricity and gas smart meters, Landis+Gyr was able to prove it has the required expertise to develop meters in compliance with the Dutch DSMR 4.0 standard, to demonstrate production capability and also quality control and management.
Though the small-scale rollout will continue throughout 2014, the conclusion of a mid-term Parliamentary evaluation, conducted by the Ministry of Economic Affairs, was successful. The evaluation encompassed all aspects of the rollout, including installation efficiency, costs, customer acceptance and the impact of smart meters on end users' energy efficiency.
An opportunity that emerged out of the positive evaluation, reported by the Ministry, relates to potential development of in-home energy visualization devices and commercial services that use smart meter data to stimulate end consumers to increase energy savings.
Coco Geluk, Managing Director, Landis+Gyr Netherlands, explains: 'From the outset we worked closely with Dutch grid operators. The company invested in its resources in the Netherlands, with a 10-strong local team that has established good lines of communication with clients and is able to respond to them quickly. Despite the complexity of the project, we have been able to design the electricity and gas meters according to the required DSMR 4.0 standard, demonstrating to DSOs we are able to support them in their smart meter rollout.' As a result, the company has a good share of the first stage and the initial full-scale rollout.
The large-scale rollout will begin in January 2015, where around 1.6 million* smart gas and electricity meters, are expected to be installed during the first year. For the remainder of the rollout, from 2016 to 2020, the DSOs are in the process of issuing new tenders. This last stage of the rollout will see a total of around 12 million smart gas and electricity meters connected to homes and small businesses throughout the Netherlands by 2020*.
*Source: "Besluit grootschalige uitrol slimme meter" Voorstel van wet 10-03-2014 Ministerie van Economische Zaken The Netherlands