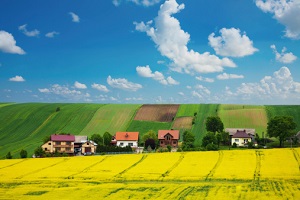 Landis+Gyr helped TAURON Dystrybucja to conduct a successful pilot project, in Poland, to deliver a full end-to-end smart metering solution, integrating meters from three different vendors.
Smart meter interoperability is crucial for utilities to ensure that their investment in modern energy management solutions is future-proof. Landis+Gyr has recently completed a pilot project for Polish utility Tauron where IDIS-certified meters from three different manufacturers are being used in the same meter park, all managed in the Gridstream AIM smart metering system.
Landis+Gyr Poland CEO, Andrzej Szymanski, says, "We have been working with technology familiar to us from previous projects and at the same time integrating devices from other vendors – without experiencing a drop in system functionality." While the majority of the nearly 12,000 devices in the field are Landis+Gyr meters, Tauron also had to integrate 1500 meters from other IDIS-certified manufacturers. The delivery includes Landis+Gyr data concentrators.
For Tauron Dystrybucja the smart metering system needed to be a full end-to-end solution interoperable with third-party vendor devices. Two-way communication throughout the metering chain was imperative, as well as remote firmware upgrades. "The massive data flow increase is like a stress test for our customer's IT infrastructure and challenges us to help them in the best possible way," says Szymanski.
In total, the Tauron Dystrybucja Group has a domestic customer base of 5.2 million – 33% of total population – and delivers 23% of electricity in Poland. Simultaneously, 600 Tauron customers participated in an energy efficiency pilot enabled by Landis+Gyr's solution. Tauron can now optimize its customer service further. End-customers participating in the pilot can track their personal consumption data via a web-portal and initial results suggest customers appreciate increased control over their energy use and have started reducing it. However, to maintain energy saving efforts over the longer term, additional demand response programs are needed.
Closer to the smart grid
Tauron Dystrybucja is preparing for a full rollout of smart metering to its entire 5.3 million customer base by 2020, in accordance with regulation set out in Poland and the EU. The DSO will now be able to identify and establish best practices across the business and understand how the company, and its customer base, can maximize the benefits that smart metering technology offers.
"We are very happy with Landis+Gyr's comprehensive Gridstream solution. Due to their broad experience in smart metering, we know that they can provide us with functionality that delivers a lot more than just billing values – their advanced network monitoring tools are bringing us one step closer to a smart grid", said Tauron Dystrybucja CEO Piotr Kołodziej.
Rapid smart metering development in Poland follows a declaration signing in June 2009, calling for the introduction of smart metering to increase energy efficiency for individual, institutional and industrial customers. The declaration is supported by the Polish National Energy Conservation Agency and the three largest consumer organizations.