By its very nature, smart metering technology contributes to a more sustainable future. It enables utilities and consumers to make informed decisions about energy usage, improve their energy efficiency and encourages to responsible resource consumption. Smart Metering systems are an essential component of global efforts to upgrade energy distribution systems and master the transition to an increasingly decentralized grid architecture. They build the foundation for innovative energy management solutions, paving the way to a sustainable energy future.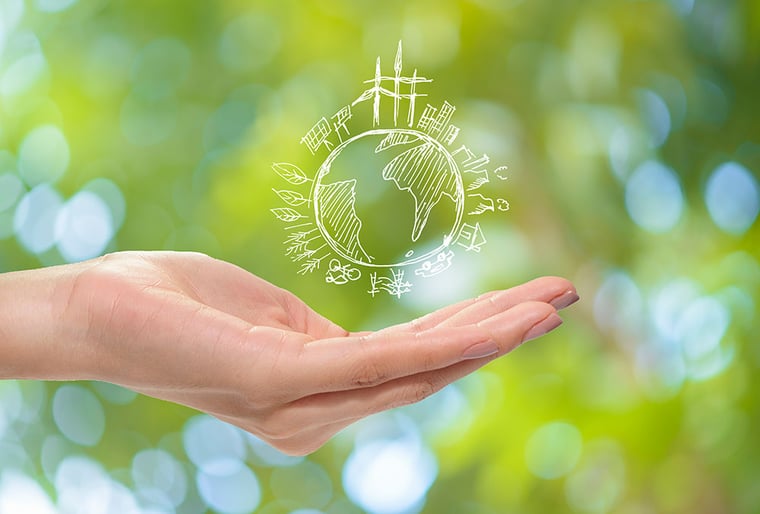 At Landis+Gyr, we're dedicated to developing state-of-the-art technologies and solutions for the energy sector, making it possible for utilities and consumers to improve their energy efficiency and reduce their CO2 emissions considerably. But our contribution to a more sustainable future is not complete unless we also pay attention to the social and environmental impact of our own operations.
When we say we're proud to produce a sustainable and fair product, this means that we consider the impact of our business on the environment, our employees and society, in every decision we take. Corporate social responsibility has been our focus for years. As part of our commitment to transparency, we publish an environmental profile for every business year, with facts and figures about our usage of energy and resources, as well as information about our commitment to respect diversity, to safeguard healthy and safe workplace and to actively engage as a corporate citizen.Green steps globally and locally. Our environmental commitment involves projects to reduce our consumption of energy and fuel, but also clean water programs and systems to reduce our output of waste and chemical waste. For example. we're switching to fuel-efficient vehicles in our corporate fleet and installing wastewater processing facilities in our factories; we are also processing and recycling our industrial waste and eliminating the use of harmful chemicals in our meters.
In addition to these group-wide initiatives, individual locations have come up with more unusual and creative solutions. One example of this can be seen in our facilities in France, where plastic components for smart meters are produced in one facility and then transported by truck to an assembly plant. The design team used ingenious solutions to save not only on the amount of plastic used in each meter, but on the amount of petrol used per unit in transport. This was achieved by incorporating a honeycomb structure in the components, maintaining strength and rigidity while reducing weight and volume of plastic. In addition to this, the parts were designed to stack closely together, reducing the overall transport volume, so that more parts can fit onto a truck and consequently fewer journey have to be made to deliver the components.A fair initiativeWe recently had the opportunity to prove our green credentials, as part of the Fair Meter Project in the Netherlands. Our utility customers Alliander and Stedin have signed a 'Fair Meter Green Deal' with the Dutch government. Part of this is a commitment by the utility companies to only work with suppliers committed to the same standards, including processes as well as products. For example, it mandates that all players involved in the project consider their energy use and emissions, streamline material purchasing processes, avoid using conflict minerals, maintain transparent production, uphold labor conditions and protect resources and raw materials. Committed to this initiative, Landis+Gyr will supply more than 1.5 million E360 meters for installation across the Netherlands.
This project is just one example of our continuing efforts to meet the highest standards in environmental awareness and business ethics in all our activities, along the entire value chain for our products and services. We work on this goal every day, in every product we design and every contract we sign. We work for a better, greener future, not just because it's what our customers want and because it improves our operations, but because it's the right thing to do.