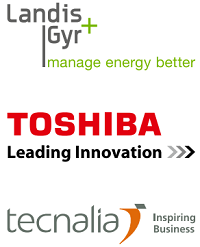 Landis+Gyr engaged with Spain-based independent Smart Grid research and validation center TECNALIA to test the company's new Smart Grid solution under real-life conditions in a smart grid demo environment.
The study's main objective was to demonstrate how existing innovative Automated Network Management (ANM) solutions, such as µEMS/Smart Grid Terminal S650, enable utilities to improve voltage quality, manage decentralized generation and balance energy demand and supply within the network under the most strained conditions.
Based on the learnings from other smart grid projects and taking advantage of the lab's network control capabilities, Tecnalia was able to simulate different scenarios, including impact of controlling elements such as the voltage regulator (line and/or distribution transformer), load and generator combinations, as well as a storage system demonstrating the usability of network assets and performance when used with TOSHIBA µEMS control solution and Smart Grid Terminal S650 from Landis+Gyr.
Results show that it is possible to control and keep the voltage within foreseen limits, hence preventing flicker resulting from undervoltage and losses resulting from overvoltage situations. With the potential to manage State-of-Charge of grid-connected energy storage, as well as curtailment of loads and/or renewables, the solution is able to perform predictive capacity management, matching a particular region's demand and supply.
Tests have proven that with such solution successful operation of the microgrid as a part of the larger smart grid infrastructure is a reality. The solution is able to predict mismatch between electricity demand and supply in the selected region, automatically applying corrective measures to the grid, hence maximizing its operational efficiency and reliability.
Tecnalia is the first applied research center in Spain and one of the most prominent labs in Europe with around 1,500 staff, a €110 million turnover and has over 4,000 clients participating in various European Smart Grid projects.