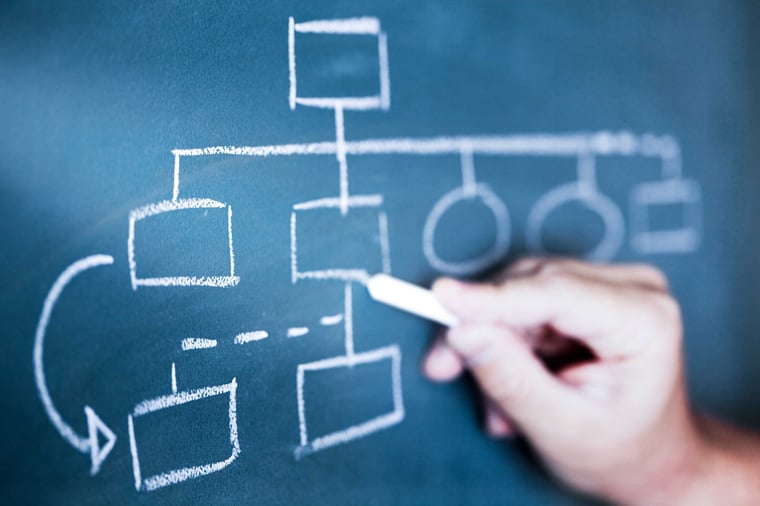 Why do some individuals, teams and organizations perform superbly in certain conditions but struggle when facing changes? What is needed in today's ever-changing working environments and to achieve good performance throughout your career?
Change is one thing we are guaranteed to face again and again during our careers, and without a proper conscious approach, it can easily derail our focus, motivation and performance. Regardless of our position as a team member or a team leader, we can do our best to influence that change and most importantly ensure that we can enjoy our work during and after the change. The recipe for making change a success requires three simple ingredients:
Engaging. Explaining. Expecting.
During the last two years I've had the opportunity to take an active role in driving recent changes in our organization by establishing two new global senior expert teams that act on different continents and work closely with several other internal stakeholders. One of the most challenging aspects in this has been the completely new and very complex role of these teams in Landis+Gyr's organization. My teams have been working as an end-to-end solution owner, defining solutions based on Landis+Gyr's devices and software products, and supporting the sales, R&D, product management and customer project delivery teams to win solution projects and deliver them to our customers.
It has been very rewarding to see these teams build and integrate with existing stakeholders. There has been a real, visible change, not only in our team, but also around us. I would like to share some thoughts and the "three Es"* – core guidelines for driving and embracing change that I've learned over the past two years.
E

ngage. Make feelings work for the change.
Many changes take us by surprise and this naturally causes an emotional reaction in everyone. It is important to process your own feelings first, because otherwise those thoughts could unconsciously block your thinking and push you into a negative cycle that will make it difficult to see the positive opportunities offered by a change.
Organizational changes often give rise to a number of questions: Why do I have a new role? Why was I moved into a new organization? Why do I need to leave a team I enjoy working with? Why is this change necessary? The essential thing is to create a sense of urgency to underline the necessity for things to change. This has to be understood and turned into positive energy. When change is required, I personally focus my energy on the areas that I can influence, and buy-in or accept the areas that I can't.
E

xplain. Relate the top level goals to your goals.
During a change, the top level change communication might feel very distant from an individual's perspective. There is a logical reason for this – the message given needs to be simple and clear – thus it is often impossible to communicate the reasoning behind a change and the long term goals in a form that describes exactly what it means for all the people involved. Therefore, it is very important to build a bridge from the top level goals to your personal and team goals.
Due to the nature of building two new teams with several interfaces to others teams, I had a dialogue between all the stakeholder teams and my manager to define the direction where we needed to go. It is important to set goals and targets early on in order to avoid unnecessary anxiety. On the other hand, some areas might need fine tuning later on, so it is important to avoid setting overly detailed targets that might need to be changed soon after.
During the latest change, I recruited three new members to Landis+Gyr – 60 % of the new five-member team – and it was obvious we needed to get right the team's first steps. The simplified first targets included three steps to ramp up the team and avoid the potential mess of ad hoc work: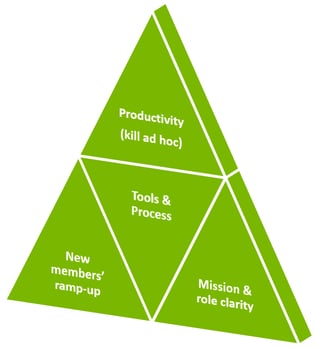 Mission and role clarity was rather challenging in this case because we were a completely new team and the role differentiation between our team and existing teams needed to be defined. It took months of hard work and dialogue with all the stakeholders to define expectations for my team. As part of this, I worked temporarily in our headquarters in Switzerland for three months in order to remove the potential road blocks that could emerge
Ramping up the new team members with adequate product and technology training and involving them in selected tasks, where the volume of learning was limited to ensure that people could get a feeling for managing their respective responsibility areas
I am not a big fan of processes as such, but certain structures are needed to make work efficient. In our case, a good example is the way solution documentation is done during a bid.

The above three steps were meant to ramp up the team and enable us to work efficiently. After ten months of operations and six months since the last new member joined the team, I feel that we have proven to have a professional team that is able to deliver value for our business.
Another part of Explaining is repeating the message. Trust me – just repeat it. I was amazed at how many times I heard the same questions popping up about our team. It is important to have an elevator pitch ready about your change mission and perhaps some example cases about how it creates value.
E

xpect. Make a plan + follow it.
Driving a change requires a lot of energy and time to process the situation and the steps that follow it. For me, the best approach has been to focus on analyzing the situation at certain times, making a plan accordingly and reviewing that plan every six to eight weeks. This way, you can focus both on the plan and operations separately. Distancing yourself from the planning also gives you valuable insight into designing further steps.
A good tool to ensure that each team member feels empowered to take responsibility independently is to have transparent status meetings for agreed milestones with the whole team. Peer pressure helps people nail down even the most boring actions.
Following up your own actions requires self-discipline and defining clear milestones that help keep up with a plan. What I did, was that I made a team ramp-up plan (visible below) for myself a month before the new assignment started. I have been surprised that the planned steps have actually become necessary in about the same timeframe as I originally planned.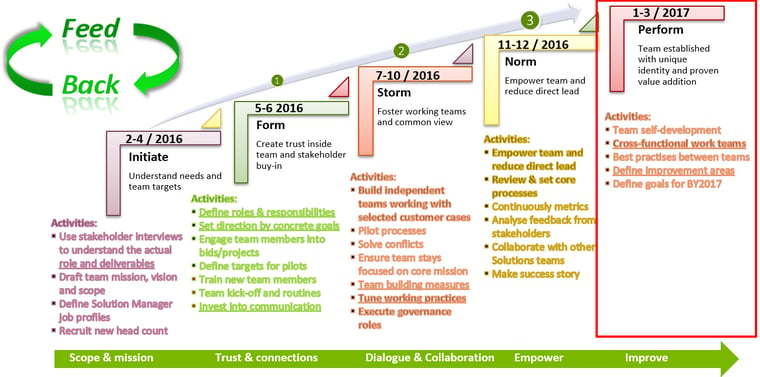 Change is not easy, but making it a success is in our own hands – having an open mind and doing conscious work are keys to success. And yes – there are tons of books and theories about change management to help you. Here are a few that I can recommend: