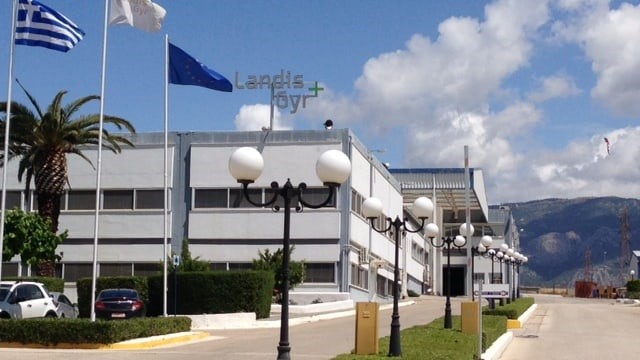 Situated near the iconic Corinth Canal, the sprawling 56,000 square meter production facility at Corinth has had an illustrious history on its way to becoming Landis+Gyr's largest smart manufacturing facility in Europe. Yet it had to show resilience to bounce back from tough market conditions in 2012, for a resurgence in production excellence, social impact and environmental contributions.
A beacon of smart manufacturing
When In 1972, Landis+Gyr opened its smart meter production plant in Corinth, Greece, the objective was for it to serve as a production hub for Europe particularly for electricity meters. Today it is Landis+Gyr's largest production facility in Europe and second largest in the world after its Mexico plant. With an annual production capacity that exceeds 6 million units and over 30 automated manufacturing lines for producing smart electricity and gas meters, the plant has state of the art manufacturing capabilities to produce the full range of latest residential, industrial and grid sensing smart meters.
Weathering the tough times
It was not all smooth sailing in Corinth. The first 40 years had yielded great results for the facility. However, between 2010 and 2011, Landis+Gyr Greece was faced with rough economic conditions. In a year that showed declining construction activities, the market shrank and after 40 years of success, the factory was shrouded under the threat of a shutdown. Production was going to be transferred to mass production factories in the UK and France. Fortunately , thanks to the initiatives of the management and employees, this fate was avoided.
From resilience to resurgence
In 2016, the company decided to relocate production of "smart" electrical meters from its factories in Zug, Switzerland and Stockport, the United Kingdom to Corinth. As a result, the majority of the recently announced launched smart meters such as E360 LTE and E660 Industrial meters sold in countries like Austria, Switzerland, Denmark, Poland, Croatia and Herzegovina, Slovenia are all now being produced in Corinth. Last year, Landis+Gyr invested around 10 million for its new production line of natural gas meter G480 . Since 2016, Landis+Gyr has invested more than EUR 35 million in the Corinth plant.
Contributions to society and environment
Over the past five decades the factory has consistently contributed to social and environmental progress in the region. Having adopted high industry standards to achieve its goals in the areas of environmental, social and governance (ESG) and Landis+Gyr is committed to become carbon neutral in its own operations (scope 1 and 2) at group-level by 2030. Today the Corinth production facility runs at 100% renewable energy. Furthermore, The Company was able to decrease total water consumption in its Corinth site by 12% and total waste generation by 14% over the last 5 years.
In addition to fulfilling the latest ISO standards in quality management, environmental management, occupational health and safety and information security, Landis+Gyr provides funding for local NGO's and together with reforestAction, planted over 360 trees so far in Greece . In the last 50 years, the Corinth plant has created hundreds of skilled and semi-skilled job opportunities in the region; and at present, the factory has more than 550 employees.
New milestones
In June, Landis+Gyr's European leadership team visited the Corinth production facility to commemorate its 50-year anniversary in Corinth, Greece. In FY21, the facility helped the EMEA region achieve 17.4% growth in revenues, contributing $590.1 million to overall company revenues of USD 1,464 million.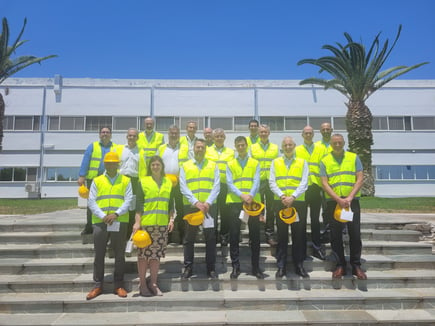 "Our mission is to help our customers navigate the accelerating energy transition – from integrating renewables and EV charging to ensuring resilience of the grid and at the grid edge", said Bodo Zeug, Executive Vice President and Head of EMEA at Landis+Gyr.
"As a result, our portfolio of energy management solutions includes Smart Metering, Grid Edge Intelligence and EV charging Smart Infrastructure. Our production facility in Corinth is particularly important in this regard as it helps us to leverage state-of-the-art manufacturing to deliver innovation at scale, not just in Europe but also for our global markets".
"We are proud of our strong presence in Greece for half a century now", said Aristidis Pappas, Managing Director of Landis+Gyr Greece. "The experience and know-how we have accumulated over this period enables us to deliver smart meters that support utilities and countries worldwide to upgrade their energy infrastructure and achieve their sustainable development goals."