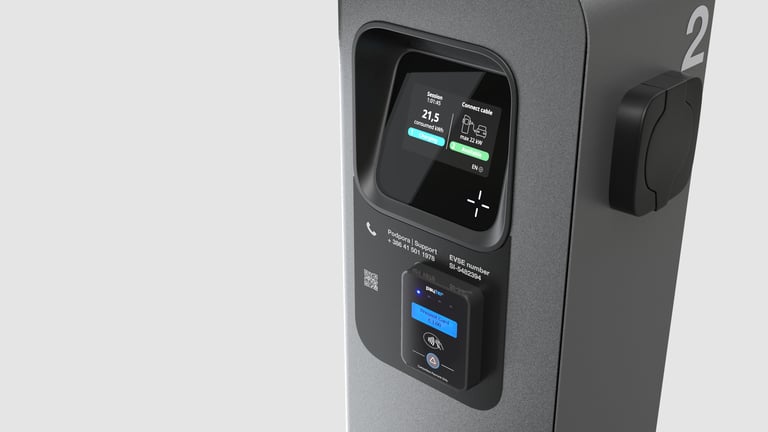 Contactless payment terminals are being hailed as a game-changer for the accessibility of publicly available Electric Vehicle (EV) charging. They offer a quick and convenient payment method for the growing number of private and commercial EV users and are considered an integral part of the transition from traditional to electric vehicles by 2030. This transition is super critical to helping to deliver the UK net zero targets by 2050.
Incentivising the transition
The majority of EV drivers already charge at home thanks to great incentives from OZEV aimed at the provision of baseline charging infrastructure. However, many daily commuters need to rely on public charging infrastructure.
Today there are over 30 e-mobility service providers across the UK. This means 30 different charging apps, accounts, subscriptions and potentially 30-times the confusion for new EV drivers. While some providers offer roaming agreements, similar to the service we know from mobile operators today, there are still ones that do not provide this option. To reduce the hassle of identification and payment there is a surge in chargers offering a contactless payment solution– debit/credit card.
Contactless technology is already adopted in many other situations, from vending machines and laundromats to self-service fuel stations. It makes the experience of paying quick and easy. It makes sense that this technology should be at the heart of our e-mobility network and a key enabler to the country's transition to achieving its zero-emission ambition.
Pay-as-you-go debit or contactless payment options are already mandated for all public Electric Vehicle Charge Points (EVCPs) over 50kW and the Department for Transport (DtF) has announced a preference for the entire network to follow suit. It isn't too much of a stretch to imagine this may become compulsory for all charging locations soon. As a result, companies that are looking to install or upgrade public EVCPs would be wise to consider incorporating contactless payment solutions into installations, avoiding the need for another upgrade or stranded asset.
Leading with innovation
Our purpose at Landis+Gyr is bound to the principle of continuous development and innovation in energy management solutions. The challenge for successfully navigating the widespread change in behaviours and uptake of products that can ensure the UK achieves its carbon zero goal, is in developing a raft of integrated solutions for optimum effect. We offer a portfolio of public and domestic EV chargers to suit all customers, facilitating the transition from petrol/diesel to electric vehicles for everyone.
For home charging, integrating the use of a domestic EVCP with smart meter technology and even home energy generation using solar with battery storage technology is a way to create a seamless solution for users. In the public space, ensuring each stage of the charging process is as quick and easy as possible is crucial. There are currently around 60 different charging networks in the UK, and only a minority allow direct card payment. In most cases, drivers must download an app, go to a website or have a pre-registered RFID (Radio Frequency Identify) card.
We have simplified this process by integrating a payment terminal on our Landis+Gyr Etrel INCH DUO charger. The combination offers a seamless contactless payment solution for commercial EVCP operators in the UK. It allows any user to access and pay for their charge sessions without any form of pre-registration, making it instantly available to anyone with a payment card, or payment-enabled smartphone or wearable device. EV drivers can just tap their payment card to initiate charging as soon as payment is authorised.
Convenience is persuasive, nearly one in three UK payments were made using contactless in 2021, a rise of 36% on transaction volumes 2020. As a society the expectation for immediate gratification is on the rise, as evidenced by the rapid growth in next-day and even same-day deliveries for online retailers, in what has come to be known as the Amazon effect – people just don't want to have to wait for anything, anymore.
A commercial opportunity
The shortage of EVCPs in the UK and growing demand is driving opportunities for charging operators to increase to numbers of installations around the UK. The most powerful EV charging hub in Europe recently launched at the Oxford Super Hub with ten Landis+Gyr Etrel INCH DUOs all equipped with an integrated payment terminal. Drivers currently have the pick of 20 AC charging bays charging up to 22 kW, 12 DC 250 kW Tesla Superchargers and 10 DC 300 kW rapid chargers. The site is directly connected to the National Grid infrastructure capable of delivering, it has an on-site capacity of 10 MW of power supporting a future upscale to serve up to 400 vehicles, using renewable energy.
To reduce initial hardware costs for EVCP operators, reduce operational costs and ensure better return on investment, multiple chargers can be connected to the same payment terminal on location. This would create a charging hub where potentially up to 300 charging bays can utilise a single payment terminal for payment.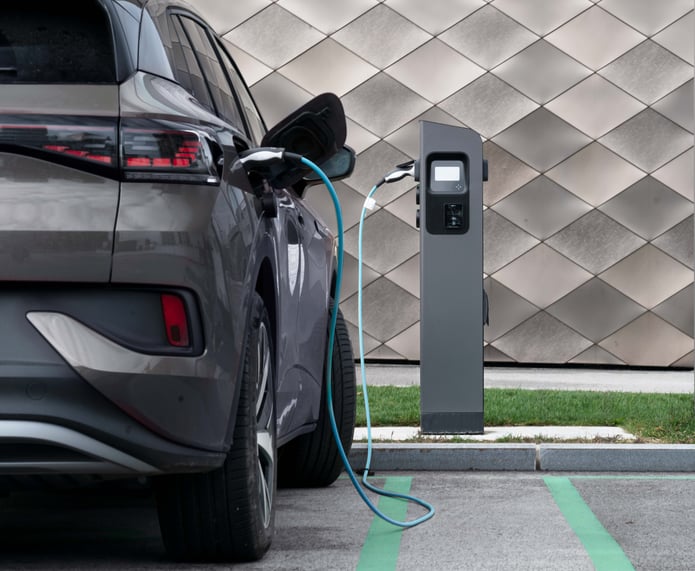 Always conscious that the transition to EVs, growth in renewable energy sources and more efficient energy use is part of a bigger picture to protect the environment, Landis+Gyr Etrel's chargers are made from aluminium INCH Pro and stainless steel INCH DUO. Both materials are some of the most recycled and recyclable materials on the planet, making them robust, environmentally conscious and designed for life. We also offer a comprehensive refurbishment program on our INCH Pro's where partners can refresh chargers rather than replace, meaning longer life, lower cost of ownership and reduces environmental impacts on landfill.
The UK currently does not have enough EVCPs to service the requirements of the growing number of EVs on the road and is lagging behind the rate of uptake. In September 2022, the Society of Motor Manufacturers and Traders (SMMT) published figures showing that there were now over 1 million electric cars registered on UK roads, with sales growing again month on month following a significant dip during the pandemic. Companies that can offer seamless EV charging experiences for drivers have the opportunity to make a very real contribution to easing the bumps along the way that supports the transport electrification transition and to serve the estimated 36 million EVs expected on UK roads by 2040.