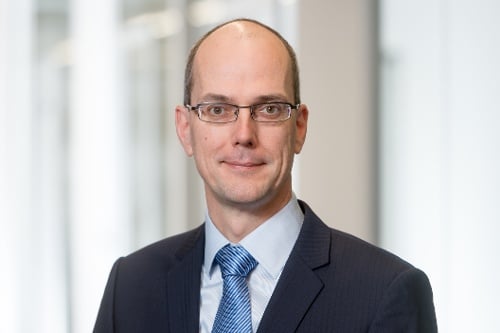 Bodo Zeug, Executive Vice President and Head of Landis+Gyr EMEA
Bodo, since September 2021, you have been heading the Landis+Gyr EMEA region, what is at the top of your agenda?

Bodo: My motto has always been "customers first". Many of our customers are in the middle of their smart metering rollouts. A smooth implementation of their individual projects and reliable product deliveries are top priorities for us. Unfortunately, our industry, like many others, is affected by global supply chain challenges, including shortages and price increases of electronic components, material non-availability as well as increased freight rates.
Our teams in Europe and all over the world are working tirelessly with our suppliers to find solutions and mitigate the impact for our customers. Delivering on our promises and managing the related cost are the topics at the top of my agenda - together with our supply chain unit, the local Landis+Gyr organization in the various EMEA countries and our strong partner network.
What is your view on the energy sector and trends impacting the industry?

Bodo: As for the megatrends, I would probably pick up two aspects. First the race to net zero, which has truly accelerated in the past two years. We have seen numerous countries, cities, utilities, and companies announcing ambitious decarbonization plans, despite economic uncertainties. Second, the adoption of electric vehicles (EV) has exploded, particularly in Europe and the US. Global EV penetration in 2020 was 4.8%. In Europe it was 9.7%, and in the US, it was 2.3%. The global EV sales raised by 140% in the first half of 2021, compared to the same period in 2020. This leads to a pressing need for charging infrastructure development and expansion, new regulations, and technology breakthroughs. As a consequence, the global EV charging infrastructure market is expected to grow by $ 37.10 bn during 2021-2025 with a CAGR of 36.64%.
This all means a higher demand for electricity – especially from green sources. Consumers wants affordable energy from renewable sources. They also are willing to take a more proactive role – as prosumers – and contribute to reducing CO2 emissions.


What does it mean for utilities?

Bodo: Utilities must invest heavily in the grid to cope with the higher energy demand and make sure that the grid remains resilient. Additionally, they have to increase the use of renewable energy sources to fit the goal of zero CO2 emission in the future. All requires the implementation of flexibility management solutions to respond to the fluctuation resulting from the integration of renewable energy and the demand for electric vehicles. One sample, just imagine all e-car owners return home at night and start loading their car. With no flexibility management the grid would collapse. The power quality is a big issue in this matter. Furthermore, they need to foster the digitalization of the infrastructures and processes, in order to be more efficient and to get more transparency.
Here, actionable data are key to improve decision-making, plug vulnerabilities, and reduce risk. Smart meters and sensors will play a bigger role and provide real-time data at the grid edge not only for billing and consumer engagement but also about the grid status. At the same time, when their infrastructure becomes more and more digital, utilities must be aware of the growing cybersecurity risks. This leads to the implementation of security solutions to protect their assets. All in all, new business areas and tasks need to be managed, new skills are required – which ultimately brings up questions on what can be managed internally, or via a partner, on premise or in the cloud.


What is the role of Landis+Gyr in this transformation?

Bodo: Smart meters have been our core competency for many years, and they are the cornerstone of the transformation. Their role was probably underestimated when the technology was introduced. It goes beyond the meter-to-cash process. Smart meters have a significant role to play making the grid smarter and more flexible. The data they deliver provide a much-needed transparency in the grid, helping predict peaks and drops in demand and manage more effectively the available supply. Suppliers can alert electricity consumers when demand and prices peaks or offer cheaper tariffs and incentives when the demand is low. Such flexibility is key to ensuring the grid remains stable and reliable as more intermittent renewable sources become part of the energy mix.

Over the years, our portfolio has evolved from devices only to full stack end-to-end IoT solutions and services - enabling our customers take advantage of smart metering and the generated data. Today, energy companies can rely on the many smart metering projects we have implemented for utilities of all sizes. We know not only which technologies are needed but also what it takes to deploy and operate smart meters.

We don't stop here. We want to give our customers peace of mind when they partner with us and think of current and future challenges. We see for instance how fast low voltage grid and EV charging infrastructure are growing together – affecting the consumers' energy bill and the utilities' grid stability. That's why we are investing in grid edge intelligence and solutions for power quality, grid flexibility, cybersecurity, and EV charging.


Can you give some examples of these new solutions?

Bodo: We are for example combining our unique smart metering and grid edge intelligence expertise with Google's capabilities in the area of data analytics, AI and ML to develop joint applications like cloud analytics, pattern detection or power quality. These applications will enable utilities to manage their grid operations with increased visibility, while empowering consumers to utilize energy in a more informed and sustainable way. With the acquisition of Rhebo, a leading provider of cybersecurity solutions for Operational Technology (OT) and IoT networks, we have expanded our security portfolio and enable anomaly and threat detection down to the grid edge, which is critical for utilities as they modernize their grids.
In the EV space, with our new family members Etrel and True Energy, we expand our demand response and flexibility management offering to better manage the grid. For example, smart EV chargers don't automatically start recharging when initially connected. Instead, they recharge during an optimal, low energy demand time. And with the True Energy app, utilities can create additional incentives for their customers and capitalize on the interest to charge EVs from green energy sources. In addition to this, our customers see the increasing residential EV market as a growth opportunity and look for hardware and software solutions to deploy and manage EV infrastructure. With the acquisitions of Etrel and True Energy, we help them enter this new market and expand their portfolio.