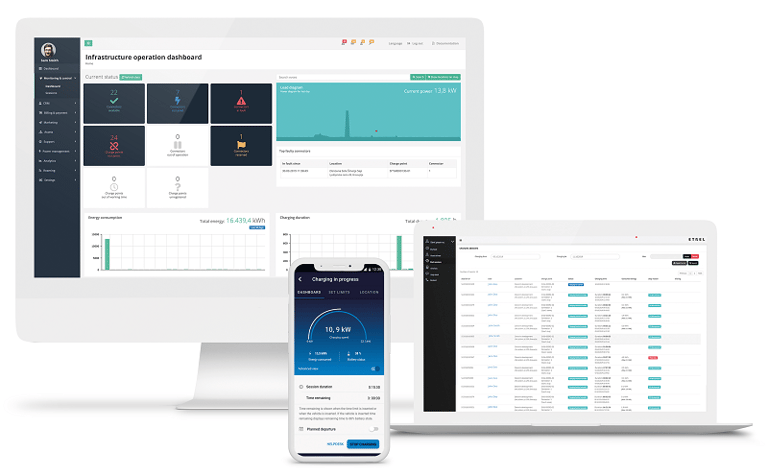 As one of the leading charge point operators (CPO) & e-mobility service providers (EMP) in Eastern Europe, GreenWay builds and manages EV charging infrastructure in the region offering a broad set of EV charging solutions and services.
As the leading full-service e-mobility company in Poland and Slovakia, with nearly 15.000 registered EV drivers, they are a pioneer of electric mobility in the CEE region. GreenWay offers customers a broad set of EV charging solutions and services based on Etrel OCEAN charge point management software and their integrated third-party systems.
Building an EV Charging ecosystem
Etrel has been supporting Greenway with EV charging stations and charge point management software for more than half their electronification journey, When Greenway was looking for a platform that had deep integration capabilities & event-based automation, they needed solutions for
asset monitoring and control,
integration with extensive automated event-based & pull APIs,
roaming, and
Open Charge Point Protocol (OCPP)
Charge Point Management with Etrel Ocean
The Etrel OCEAN charge point management software and their integrated third-party systems allowed GreenWay to tightly connect established CRM, customer portals, billing, payment, and invoicing service through their enterprise operating system with charge point network & roaming managed in Etrel OCEAN.
Utilizing Etrel OCEAN's extensive API database available as a powerful CPO system, Greenway was able to embed their existing EMP functionalities and maintain the same user experience across all their platforms.
Enhancing the EV charging experience
GreenWay also uses Etrel OCEAN's white label web & mobile application, but GreenWay's service business system sets the direction for the overall user experience. With the goal of providing an optimal user experience, they wanted to combine their user portal called Customer zone with the EV driver app.
Using Etrel OCEAN's extensive APIs Greenway customized the functionalities and look and feel of ETREL white label EV driver app and for customized user journey at certain steps embedded web view of their third-party tools. ,
The customer relationship management (CRM) is set up and managed on GreenWay's side, while the charging data record (CDR) comes from the Etrel OCEAN back-end system. Once the charging session is complete, Etrel OCEAN automatically sends the data to GreenWay's third-party system, where billing, payment, and invoicing take place. After the session, the user can view the session details in the GreenWay's Customer zone, embedded in the Etrel OCEAN web & mobile app. The same applies to the GreenWay's help desk, which appears within the app in the same format as in the Customer zone portal.
Based off the Client zone for their B2C customers, they have also developed Fleet portal for their B2B customers, intended for workplace and business charging. Although Etrel OCEAN offers a fleet portal, GreenWay wanted to develop it themselves so it would fit into their ecosystem. As they are taking full advantage of Etrel OCEAN CPO's functionalities, it allows them to tailor the back-office to their business and operations by assigning specific access roles and rights to their employees or partners.