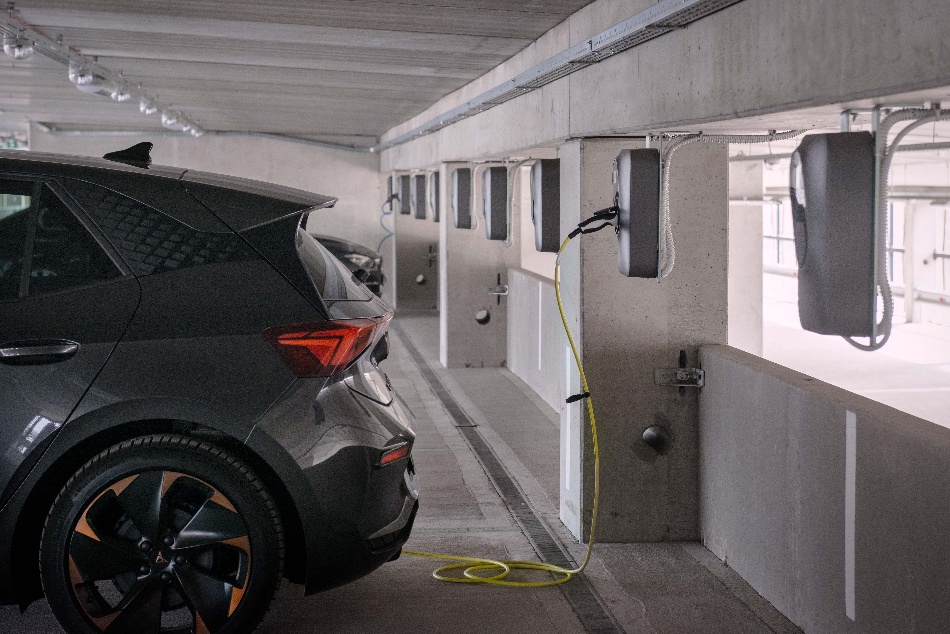 Whether due to environmental concerns, government incentives and regulations or rising gas prices; the electrification of transportation is gaining momentum around the world. According to Arthur D. Little's report, by 2030 there will be more than 40 million passenger electric vehicles on European roads. As exciting as this news sounds from the environmental perspective, it is alarming for grid operators. Due to the sudden demand for electricity, local distribution systems might suffer from temporary overloads, leading to power outages and other grid stability issues, such as voltage spikes and frequency fluctuations that can affect the performance of other equipment connected to the grid.  
How can we mitigate the congestion from electric vehicle charging? How can we stabilize the grid to ensure stable electricity supply?  
Developing a smart and intelligent EV charging ecosystem  
The charging ecosystem has become a critical component for the success and widespread adoption of Electric Vehicles. A smart and connected charging system is essential to ensure that EVs can be charged efficiently and conveniently without putting undue strain on the power grid. Many companies offer EV charging and charge-point management solutions today. However only a handful of them offer network operators a truly integrated EV charging solution with a clear focus on load management to ease the strain from the grid while focusing on the user experience.
Etrel, a Landis+Gyr company, offering solutions for sustainable EV charging is among them. From EV charging equipment to charging network management, Etrel is a one-stop shop for Charge Point operators and a trusted partner for any company looking to integrate EV charging into their service offering. Etrel's charging solutions are based on the concept of Interactive Charging, emphasizing the load management capabilities on different charging network levels, from autonomous frequency control to local load management and demand-response.
Etrel charging equipment provides a wide range of smart charging features. The INCH charger range caters to installations in various settings, from residential to public charging stations. While chargers could be connected to different management systems via The Open Charge Point Protocol (OCPP), there are also scenarios that could be supported locally. Modbus integrations with local Element Management System (EMS), clustering capabilities or local automated load balancing with accessories like Load guard help maximize the use of locally available energy and comply with local grid limitations, preventing overloads of grid connection points. OCEAN, Etrel Charge points, and energy management software provide an additional layer of services and load management capabilities to charging locations. Using standardized protocols (like OCPP or OCPI), OCEAN allows monitoring and control of EV charging locations and their users. With that, it allows management of loads of different connected charging devices, expanding the interactive charging logic to other chargers in the network. A comprehensive API library provides a fantastic opportunity to integrate with legacy systems, expanding the service scope based on data exchange.
Improve the flexibility of power system
Another solution available to distribution system operators and energy companies is to improve the flexibility of the power grid through smart grid technologies such as advanced metering infrastructure (AMI), demand-side management programs, and real-time monitoring. These technologies can optimize energy and grid usage and improve overall system flexibility. One example is Landis+Gyr's GridFlex Control solution for dynamic control of distributed flexibility assets on the power grid. Replacing traditional ripple control solutions with new communication technologies and open software application architectures paves the way for a new level of optimization applications in demand-side flexibility, load control and energy storage. Landis+Gyr's GridFlex control solution and L540 control switch for demand-side flexibility applications optimizes the distribution network infrastructure using G3-PLC (Power Line Communications). Combined with the use of advanced algorithms and sensors to monitor and control the power flow of electricity in real time, the efficiency, reliability, and stability of the grid can be ensured, and energy consumption optimized.
To sum up, it is important for utilities to monitor changes in the energy sector and stay ahead of the curve. Preparing for the EV revolution and increasing grid flexibility to better utilize renewable energy sources are examples of this. In this way, DSOs can ensure a smooth transition to a more sustainable energy future.