Reducing the use of fossil fuels in transport is vital if the EU is to reach climate neutrality by 2050. To achieve this goal, we need to accelerate the transition to alternatively powered vehicles and vessels. In other words, we need to make sure there is enough supporting infrastructure with adequate coverage across the European Union for cars, trucks, ships, and planes to (re)charge or (re)fuel with alternative fuels.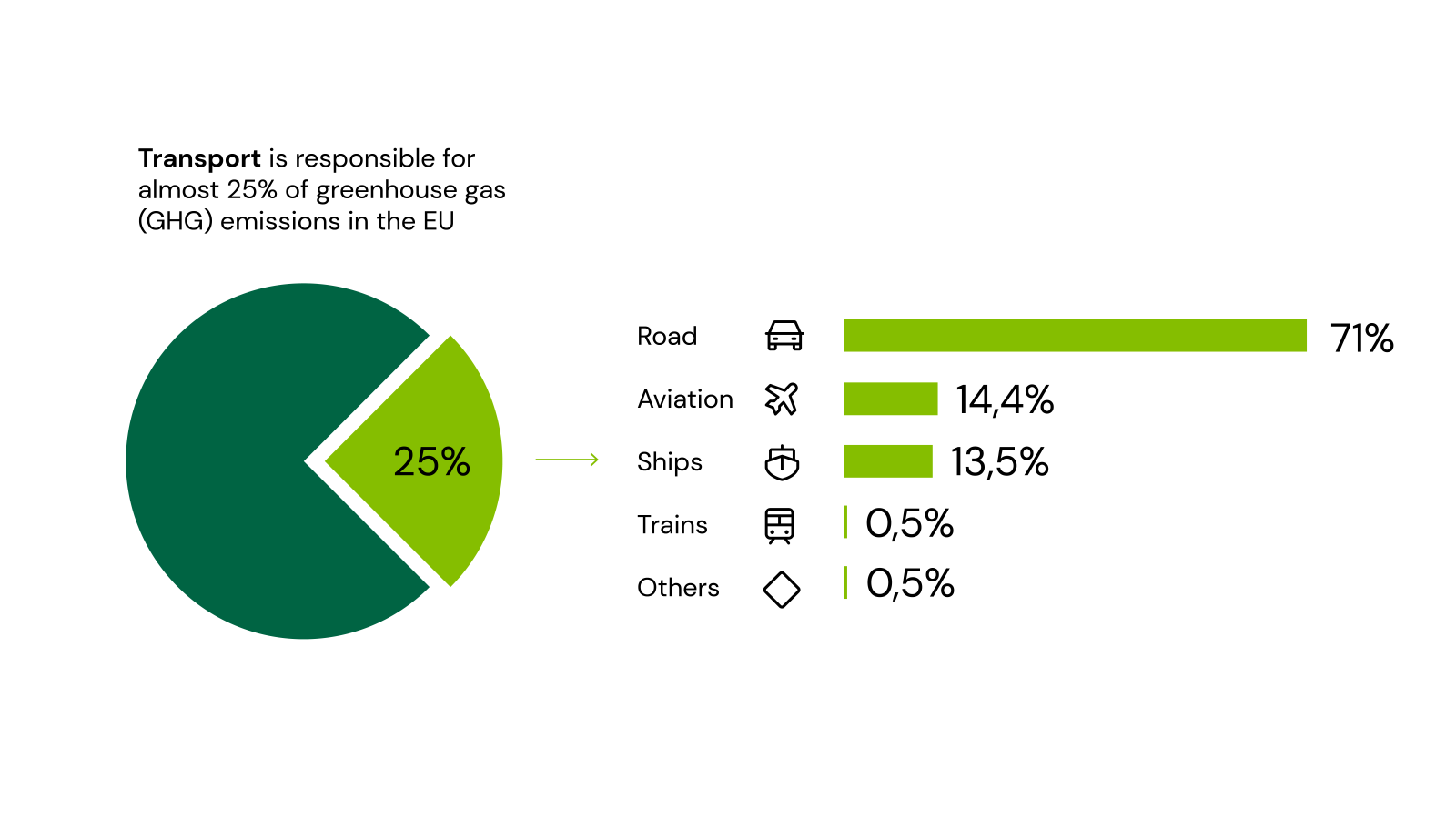 Source: Adapted from European Union, 2023
Following the adoption of the Alternative Fuels Infrastructure Regulation (AFIR) in July 2023, more charging points and alternative fuel refuelling points will be deployed in the coming years across Europe, enabling the transport sector to significantly reduce its carbon footprint.
Join us in exploring how the newly adopted EU regulation will transform e-mobility – from expanded EV (electric vehicle) charging network infrastructure to easy and transparent payments.
The alternative fuels infrastructure regulation (AFIR) is part of the Fit for 55 package and sets concrete targets for deploying charging and alternative fuels infrastructure in the EU in the coming years.
Presented by the European Commission on 14 July 2021 and adopted by the Council of the European Union in July 2023, the package of regulatory actions aims to make the EU policies fit for reducing its net greenhouse gas emissions by at least 55% by 2030 compared to 1990 levels and to reach climate neutrality in 2050.
AFIR Key Deployment Targets on EV Charging
More EVs will require more publicly available EV charging infrastructure: fast charging stations of at least 150kW for cars and vans need to be installed every 60 km along the EU's main transport corridors (TEN-T (Trans European Transport)) from 2025 onwards.
Charging stations for heavy-duty vehicles with at least 350kW output will be available every 60 km along major transport corridors, with complete network coverage by 2030.
At charging points, EV drivers must be able to pay easily with payment cards or contactless devices without a subscription requirement and with complete pricing transparency.
Charge point operators must provide consumers with full information on the availability, waiting time and price at different stations through electronic means.
Technical standards will require charging stations to be interoperable (compatible with all EVs, regardless of the manufacturer) and smart (be able to integrate into the grid and other systems).
Parking areas with charging points: Two publicly accessible 100 kW charging stations must be available at all safe and secure parking areas by the end of 2027 and four by the end of 2030.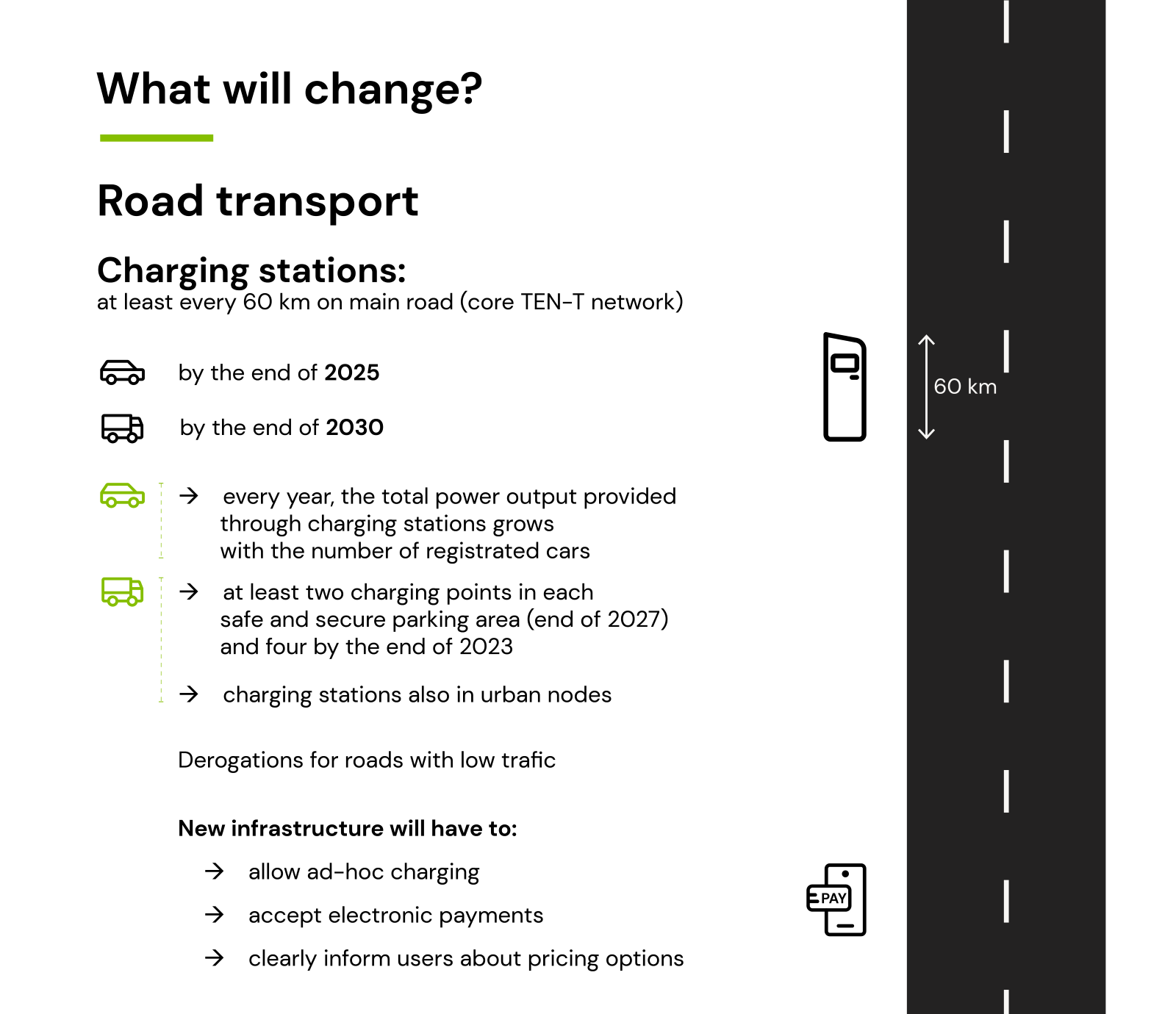 Source: Adapted from European Union, 2023
Similar legislation was also accepted in other countries around the world; in the United Kingdom, there is The Electric Vehicles (Smart Charge Points) Regulations 2021, and in California, US, the EV Charging Reliability Transparency Act.
Better User Experience for EV Drivers
Accessibility of EV Charging Network
More charging stations will be available along major transport routes as well as locally, reducing range anxiety and ensuring EV drivers always reach their destination, regardless of what EV they drive.
When we talk about accessibility, we also talk about other aspects of it besides the frequency of the charging stations. AFIR demands accessibility of all public charging stations for all users, including older persons, persons with reduced mobility and persons with disabilities. This means that the location, as well as the charging stations themselves, need to be designed in such a way that they are user-friendly and accessible for most of the public (providing sufficient parking space, ensuring that charging stations are not installed on a kerbed surface, that buttons and screens are positioned at an appropriate height etc.).
Since the UK regulation covering EV charging does not include these requirements, and EV accessibility requirements only exist in the form of a voluntary standard, there are calls for mandating them, which would help drive their uptake.
The U.S. is tackling the issue of EV charging infrastructure accessibility with the U.S. Access Board's accessibility guidelines for EV charging (issued via the U.S. Department of Transportation), which stem from the Americans with Disabilities Act (ADA) and a few other laws. California instituted accessibility regulations for EV charging stations in public locations through the 2016 California Building Code.
AFIR also highlights the need for appropriate measures to ensure the safety and security of users, such as adequate lightning, weather protection, and emergency buttons/information, especially at locations with unattended charging stations.
Transparency & Communication
It is all about communication, comfort, and safety. The waiting time, availability of EV chargers, and the cost of charging will always be available upfront, ensuring a more convenient experience.
Hassle-Free Payments
Users will be able to charge their EVs on an ad hoc basis and conveniently at all publicly accessible charging points without the need to enter into a contract with the charging point operator or a mobility service provider, even if such a subscription is available. All public charging points should accept electronic payments through terminals and devices used for payment services, including at least one of the following:
payment card readers;

devices with a contactless functionality;

for charging points with a power output less than 50 kW, devices using an internet connection and allowing for secure payment transactions such as those generating a specific QR code.
AFIR allows a single payment terminal or device serving multiple publicly accessible charging points within a charging pool.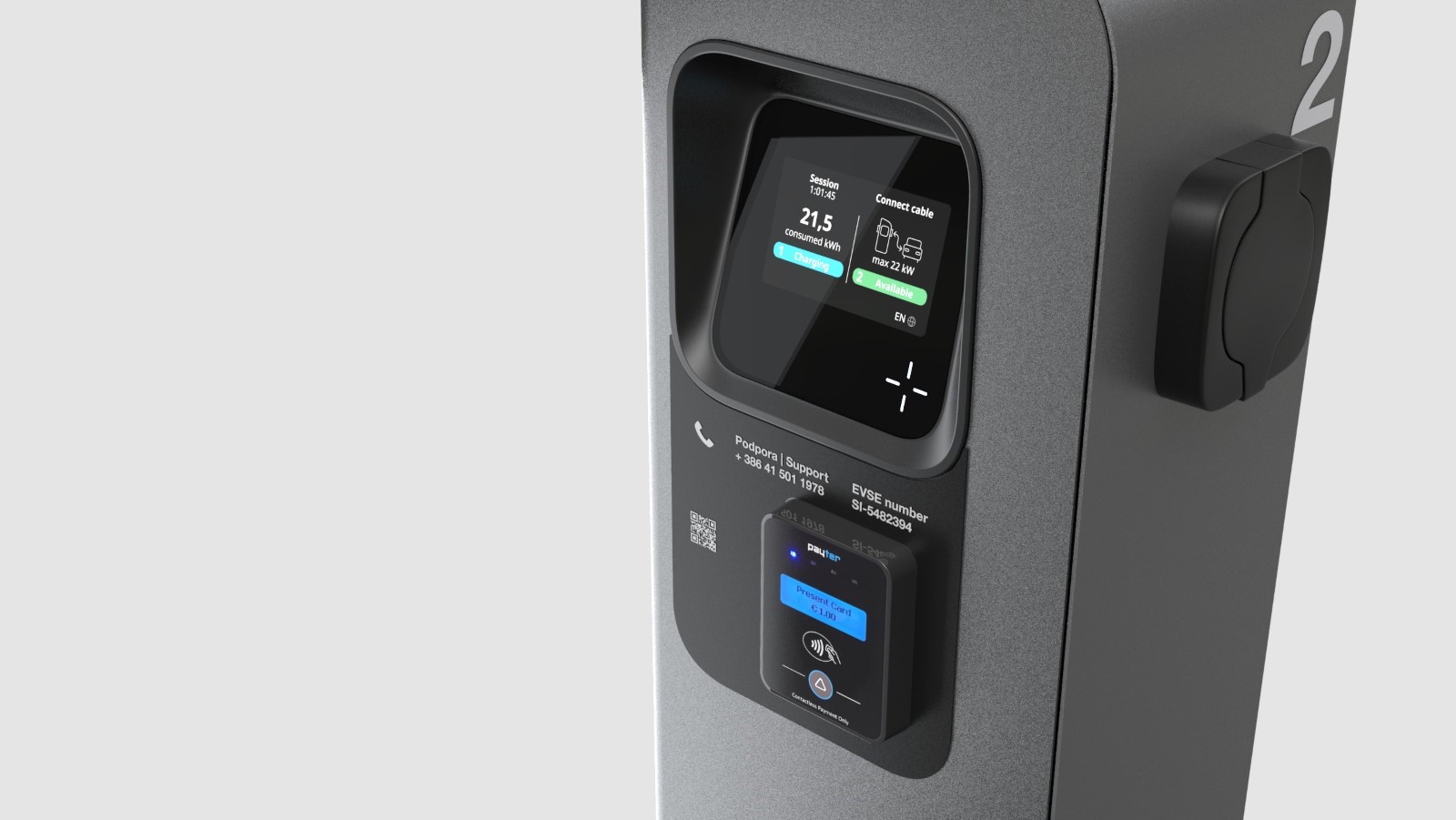 INCH Duo With the Payment Terminal
Charging stations with a payment terminal, such as INCH Duo, are suitable for any public place where operators want to provide a payable charging service. In a cluster of charging stations, the charging station with a payment terminal can serve as a single point of payment for any number of connected chargers on location while still providing charging service.
The introduction of AFIR and other similar legislations across the globe is an important milestone for the widespread adoption of electric mobility as the growing number of EVs on the roads will be better accommodated with the needed charging infrastructure and accompanied by better user experience with enhanced payment options and pricing transparency.
At Landis+Gyr, we are excited about the future of e-mobility and growing efforts to improve EV charging infrastructure that will enable more and more transport to run on sustainable energy. As a key player in the EV charging industry, we are excited about the new opportunities and better EV charging experience for our partners as well as EV drivers. We continue to be committed to managing energy better.