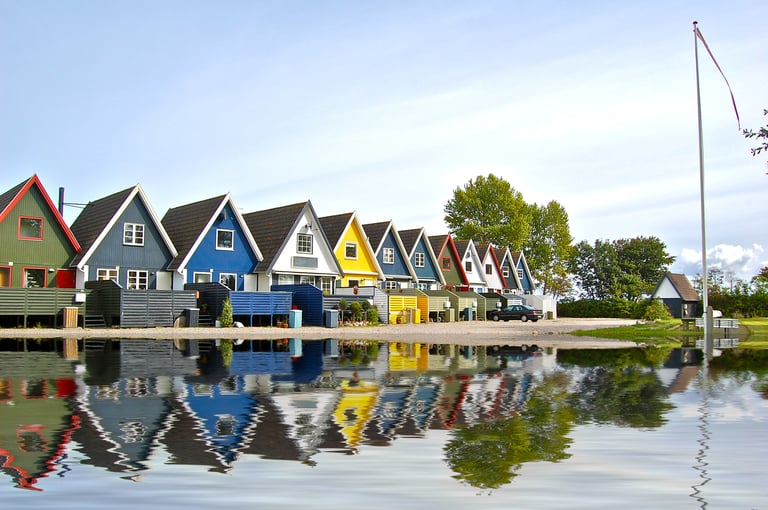 In Denmark, Landis+Gyr and Vores Elnet are rolling out a major project on smart metering. Vores Elnet, one of the largest DSO's in Denmark, is taking a significant step towards an IoT infrastructure by updating their current AMI solution and moving to point-to-point communicating residential meters.
Vores Elnet is one of the largest DSOs in Denmark with more than 200,000 customers on the Island of Funen (Fyn). Vores Elnet, which roughly translates to "our network" in English, is a cooperative utility owned by its customers. The company operates the LV and MV electricity networks and has over the years invested heavily in renewing and modernizing its electricity network to better meet future requirements.
For 15 years, Vores Elnet has run smart metering with Landis+Gyr. Over the years, the solution has been continuously updated with new versions of devices and software, as well as by introducing more advanced PLC communication technologies. Now, as the first generation smart meters are seeing the end of the life cycle, it was the time to consider a more significant solution upgrade and move to new technology designed for the IoT era.
Landis+Gyr will deliver its Gridstream Connect solution for 160,000 metering points, of which 80,000 meters will be delivered within the first 10 months. The E360 LTE-M communicating meters are installed by Voret Elnet's external partner. The integration of a new Head End System caters for a secure, real-time data collection of energy consumption, event and power quality information on 15-minute intervals.
"By choosing the newest technology with E360 devices and LTE-M communication from a reliable vendor, we will prepare to any future demands. Having worked with Landis+Gyr for years, we are looking forward to further develop our advanced metering infrastructure, achieving new levels of efficiency, and expanding our customer service." suggested Stig K. Bøgelund, Head of Installations and Metering Technology, Vores Elnet


Full speed in installations

Today, Vores Elnet is carrying out mass installations in a full speed. Every week, around 2,500 Landis+Gyr E360 LTE M1 communicating meters are being installed in the island of Fyn. LTE M1 technology is showing its strength: right after the installation, even +99,9 % of the devices establish stable connection with the system – without any additional clean-up work required. And most importantly, the highest level of communication reliability remains during the operation.
Besides the pre-configured LTE M1 communication, Landis+Gyr E360 meters can utilize NB-IoT. This secondary channel is a fallback option, and in case of bad or missing M1 connectivity, meters automatically change to NB-IoT communication.
The P2P technology provides flexibility to rollout planning: E360 LTE meters can be used for new residences and meter replacements also outside of the active mass installation areas, as meters communicate independently of the surrounding infrastructure. Naturally, when a meter is replaced, the impact on the existing PLC topology is to be considered.


Profound preparation – efficient execution

The transformation to new generation AMI technology has been carefully planned in close collaboration between Vores Elnet and Landis+Gyr. In order to get on a right track from the beginning, Vores Elnet utilized Landis+Gyr Project Management Services during the first steps of the project. System set-up, project planning and detailed configurations were defined in the lead of Landis+Gyr Project Manager. Today, the project is managed by the skilled in-house resources of Vores Elnet, Landis+Gyr supporting in the back.
An important decision taken right at the beginning, was to adjust the existing AMI system environment and transfer the entire device infrastructure to a new Head End System (HES) along with the installation progress. As the HES and Meter Data Management (MDM) functionalities in Landis+Gyr AIM are fully integrated and the MDM remains unchanged, this transition will have no impact in the daily system operations – from user perspective, the AMI interface remains the same.
Until August 2021, 80,000 meters will be delivered and installed.
"We are proud to continue our partnership with Vores Elnet. This project is an example on how we are able to work in lead of the technology with our forward-looking customers. Furthermore, the benefits of P2P-system are undeniable; it is effortless to install and cost effective to use." says Kjeld Gade, Head of Sales of Landis+Gyr in Denmark.
Designed for the requirements of the IoT world, Landis+Gyr's E360 meter uses international SIMs for flawless data transmission even in rural areas, based on LTE connectivity, while featuring new levels of capabilities in metrology and computing capacity. The E360 has so far been selected by other utilities in Switzerland and in the Nordics, including E.ON Sweden. The fast-growing wireless technologies LTE M1 and NB-IoT are characterized by cost efficiency, excellent indoor coverage, and a simplified device integration.
E360 meters are constantly growing with capabilities. Next releases will bring further optimized communication solution with data and event push, support to new multi-utility devices and extended power quality diagnostics will be available for all new E360 meters. These capabilities will be delivered not only to new meters from the factory, but also as over the air upgrades on the already installed Vores Elnet E360 meters.