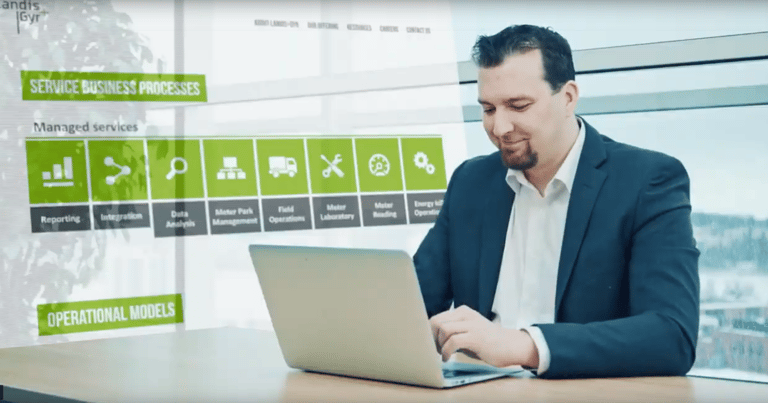 With soaring energy prices and a looming energy crisis, we all face a tough winter ahead. Utilities too are facing multiple challenges from financial constraints, revenue protection and regulatory pressures as they serve an increasingly volatile market. More and more utilities are moving to service-based delivery models to make business processes more flexible, reduce technology risks, and minimize costs.
Smart Metering as a Service or Metering as a service (MaaS) typically includes cloud services, smart grid operations and related consulting services, all of which can be outsourced to specialist suppliers, or Managed Services Providers (MSP). Specifically, cloud services include Software as a Service (SaaS), Infrastructure as a Service (IaaS) and Network as a Service (NaaS). In turn, smart grid operations cover deployment, optimization and maintenance services, while related consulting services include audit services, business process services and enterprise architecture services.
A significant growth opportunity
The utilities industry has plenty of room for outsourcing growth. Many utility companies now use service-based delivery for enterprise applications, such as Customer Relationship Management (CRM), billing systems, and asset management. By contrast, technologies that deal with grid operations tend to remain in-house. Utilities are either currently adopting or have the possibility to adopt several different flexible options to embed MaaS:
Data services: the collection, storage, and analysis of data in the cloud.

Cloud-based software: the delivery of software as a service (SaaS) or enterprise-hosted software.

Fully Managed Services: the delivery of physical assets and business processes as a Fully Managed
Service

Many organizations recognize the inherent value locked away in their data and are actively seeking ways to maximize the return on data discovery projects. The cloud is potentially the most attractive way to unlock this value. Cloud-based analytics can help reduce costs up-front and the elasticity of the cloud model can help utilities to manage the changing data center requirements as well as to overcome internal analytics resource constraints. Furthermore, companies in this sector want MSP that, among other things, can help them develop applications to enhance customer loyalty and employee engagement.
Key drivers for adopting MaaS
Rather than building and managing services in-house, enterprises stand to realize many advantages by purchasing them externally. These include the ability to:
Minimize capital investment in IT infrastructure and the need to expand data center facilities.

Eliminate the need to hire or train specialized IT staff for each application and system.

Ensure consistent, predictable application performance.

Protect data with security measures that might not be affordable in a private data center.

Align costs with usage, avoiding over-provisioning for peak times.

Manage against Service Level Agreements (SLA) to ensure the desired outcomes.
This holds true not just for Cloud Managed Services but also to smart grid operations such as field deployment, meter reading, etc. Utilities can therefore concentrate on their core competencies to deliver quality service to their customers under the constantly tightening regulatory framework. This makes adopting MaaS a rather sensible choice.
What makes these services particularly attractive is that costs are predictable over a given regulatory
reporting period so, for example, MaaS customers might look to leasing equipment rather than financing
or purchasing it outright. Adoption is also strongly driven by competition. Not least because the risk
exists that the additional value created by disruptive new smart grid technologies could be snapped up by
new entrants. Utilities are under pressure to develop new services rapidly to counter these potential new
entrants.
Doing more with less
The pervasive challenges utilities are facing are pushing them to be more nimble, agile and technically
sophisticated. They are looking for experienced service providers that can help them meet these challenges with proven solutions and enjoy all the benefits of a smart grid system without assuming the full financial, technical or operational risks of the investment; allowing the utility to focus on their core business activities.
The companies can do more with less and provide an efficient service while keeping costs down and developing new revenue streams. However, to enjoy reduced costs, improved visibility, universal access, greater end-user productivity and improved agility, utilities need infrastructure and applications that are elastic and scalable, highly accessible, usage based, secure and compliant.
MaaS in practice
Data services enable utilities to manage IT and resources, while adapting to the changing requirements
of end consumers. Any business software imaginable can be provided as a service and, for example, might
include Customer Relationship Management (CRM),payroll and book keeping applications. Most Software
as a Service (SaaS) providers host and maintain systems on their own servers, which customers then
access via the Internet. However, MaaS goes beyond IT services in scope. It's not just about providing
software service operations. It's also about managing the the entire infrastructure: from production of the field devices to logistics, and installation all the way through provision of top-level services.
As the name suggests, Fully Managed Services offer much more. They might, for example, include the
complete outsourcing of information technology functions which are more traditionally maintained
in-house, and a full range of managed field services including:
Installation/deployment planning

Materials planning for forecasting and procurement

End device testing, configuration and installation

End device field maintenance and troubleshooting

Inventory management

Troubleshooting device communication issues.
Fully Managed Services include the full spectrum of necessary devices, communication networks, software
and meter data management applications, plus any additional grid operations services that a utility might
require.
Clear responsibilities and optimal use of resources
The key benefits of a Managed Services model are clear responsibilities – ideally, only one partner
responsible for providing full service – and optimal utilization of resources, which brings cost savings.
Single, specialized service providers can offer organizations a "one-stop-shop" solution that would
include better integration of services, and superior cloud and IT infrastructure. This extends to the
provision of library of infrastructure and application services, and standard-based automated processes
(ITIL). Effective implementation requires access to best practices in identifying, planning, delivering,
improving, and supporting IT services. This makes a sound understanding of ITIL essential. Equally
important is that all process design is based on what happens in the real world: so, while ITIL is a great
framework, it must always be tailored to reality and adapted accordingly.
So, why should organizations opt for a Managed Services Model? And should they entrust their Smart
Grid Services to a single dedicated partner or go with several different vendors or, for that matter, an inhouse solution? There is no "black and white" answer to this question.
Obviously the change from buying individual solution components to Managed Services is a big shift, which requires very different thinking from utility operators. Instead of defining lots of technical details on how everything should be executed, questions of what information and functions are needed to run utility business efficiently become more important. There are significant benefits to be enjoyed in doing this - it really enables utilities to concentrate on their core business while the ever-growing complexity of future technological environments is taken care of by a specialized service provider.