We spent the final week of November at Frankfurt attending Enlit Europe 2022, a major European energy event following COP27 focused on stories of people, projects, and technologies driving the energy transition. From the various conversations, hub sessions and summit keynotes and panels we take a lot of learnings back with us. Here is a quick snapshot of our top takeaways.
There was a strong call to action at this years enlit. With just seven years remaining to reach the 2030 reduction target there is broad consensus that although we have the technology needed to transform the energy system, we need to renew our focus, will and regulatory environment. While several speakers highlighted the Ukraine crisis, energy security and the knock-on impacts on Europe and the rest of the world, Greg Jackson CEO of Octopus energy spoke of the need to rid ourselves of incumbent thinking and our addiction to fossil fuels.
1. The need for greater energy security
From the Ukraine crises and its knock-on impact in Europe and worldwide, several speakers and panelists highlighted the importance of protecting critical national infrastructure. However, despite the OT/IT convergence of grid technologies expanding threat surfaces across the Advanced Metering Infrastructure (AMI), most utilities/panelists admit to being underprepared to prevent, detect, protect against, mitigate and address the new threats of the Utility 4.0 era. An end-to-end approach towards grid resilience and AMI security is lacking. From addressing fluctuations, disruptions and outages to detecting and preventing cyber threats or operational anomalies, protecting the grid does not stop at hardware, communications, software and cloud levels but also in manufacturing processes.
2. Flexibility for an increasingly dynamic grid
Grid congestion has become a crucial issue in Europe as renewables come online at a faster pace and electric vehicles bring new and erratic load profiles. Accommodating too many renewable energy sources or EV charging points onto the grid without preparing or updating the infrastructure can create congestion, disruptions and problems, as evidenced by the situation in the Netherlands. Within this context flexibility management can help. Louise Rullaud, Head of Distribution & Market Facilitation team at Eurelectric comments that flexibility provides an efficient tool for grid operators, supporting them with congestion management without adding more generation or tech onto the grid. In her hub session on Grid edge technologies, Ifigeneia Stefanidou spoke on how grid edge intelligence can help DSOs achieve the visibility and control they need to fulfill regulatory obligations and provide flexible, resilient grid infrastructure today and tomorrow.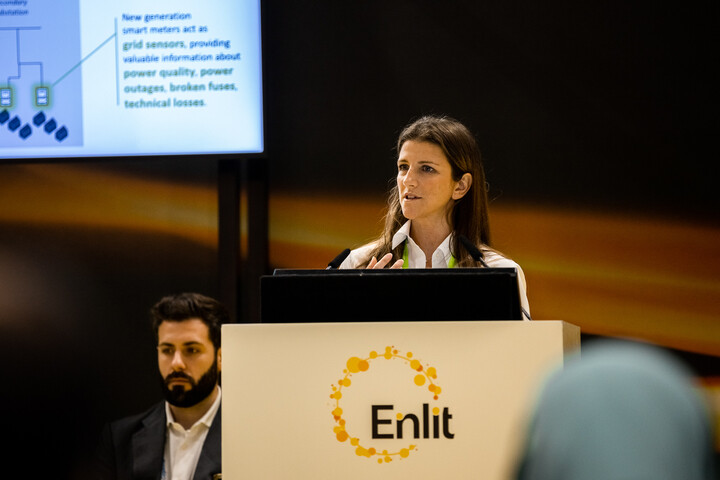 3. Grids must modernize and digitalize
To ensure that the grid doesnt become the bottleneck in the industry's transformation., the end-to-end energy system must be digitalized to fully optimize technologies that enable mass decarbonization. To fulfill regulatory obligations and provide resilient grid infrastructure, grid operators will need greater visibility and control through accurate, actionable insights on consumption, billing, quality of supply, asset and grid health and monitoring of transformers, substations and low-voltage networks at large. It is therefore vital to build flexible, scalable and interoperable Utility IoT platform of intelligent endpoints, secure communications and cloud applications to ensure safe, reliable delivery of energy, better integration of renewable and EV charging and actionable insights for consumers to manage their consumption. At a summit interview, CEO of Landis+Gyr group, Werner Lieberherr spoke about how smart metering, grid edge intelligence and smart charging platforms can shape the future of energy mobility and water.
4. EV Charging and the grid
With the explosion of charging stations in cities across Europe, not only do we need to ensure that electric vehicles are charged in a safe, controlled and sustainable manner but also that it doesn't disrupt grid operations. As we build infrastructure to accommodate 130 million electric vehicles (EVs) by 2035, it's not the increase in electricity demand but the unpredictable nature of EV charging that will present the biggest challenge to the grid. Building smart vehicle to grid (V2G) systems and smart charging stations that allow charge point operators to remotely monitor and control the status of their assets and the charging processes of their clients will be key. In a hub session on EV for the grid. Tanja Mesicek from Etrel (a Landis+Gyr company) spoke of interactive charging, charge point management and managed charging solutions to help the grid cope.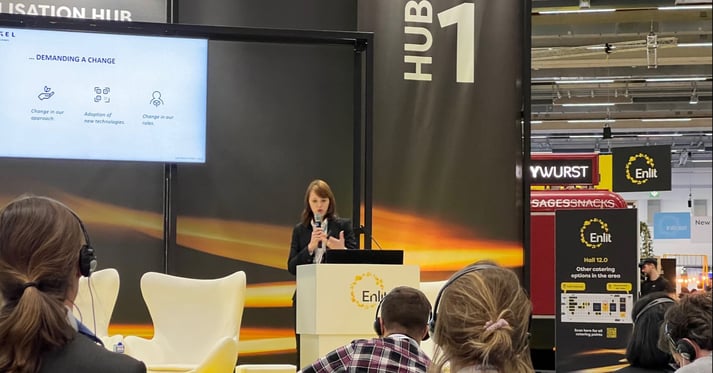 5. Collaboration is key
Partner ecosystems will achieve more than organizations trying to go it alone. No one party has the expertise to transform the entire value chain, so collaboration is essential. Whether its long-term innovation partners with educational institutes, startup partnerships to implement projects at speed and scale or open co-innovation among partners and even competitors.
6. Transition in Europe needs regulatory boosts
For systemic change to happen, we need to simultaneously pull policy, economic and technology levers to create the right environment for transformation. However an energy security divide has been growing between European objectives of the Green Deal and member nations' national priorities and interests. The disconnect between Europe's energy goals (security and reliability of supply, energy affordability, sustainability) and individual countries' objectives means that we need new ways to synchronize these goals. Some speakers cite governance failure as the biggest risk to energy transition and the need for clearer policy frameworks/instruments to track the progress or failure of European countries.