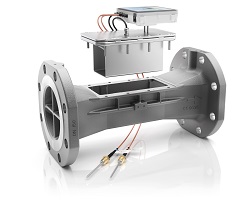 Landis+Gyr presents a new generation of large ultrasonic meters, ULTRAHEAT qp 150, extending the existing portfolio by nominal size DN 150 with nominal flow of 150 m3/h, available to order in June/July 2014.
The product incorporates a revolutionary concept as the flanged body can remain permanently in the system, without any influence on measuring accuracy and stability. For testing, exchange and recalibration only the calibrated measurement insert requires changing. The robust flow part and the measurement insert are made from high-quality stainless steel. The ability of the flanged body to remain permanently in the system, as well as the simple exchange of the measurement insert saves time and money over the long term.
The new concept is unique as the complete measurement technique can be changed, refined and calibrated without entailing metrological restrictions or risks.