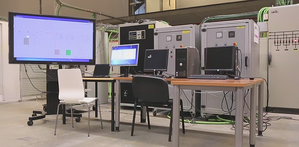 Availability of real time information in the distribution network today is low, despite availability of equipment, smart grid applications and tools for visualization, data analytics and operational processes. What has been missing so far is the level of automation that enables the distribution network to operate effectively at a local level.
The Landis+Gyr Automated Network Management solution (ANM) has recently been validated by Tecnalia, a Spain-based independent smart grid research center. The study aimed to demonstrate ANM's effectiveness at improving voltage quality, managing decentralized generation and balancing electricity supply and demand within the network under strained conditions.
Based on findings and knowledge gathered from other smart grid projects and by taking advantage of the lab's network control capabilities, Tecnalia simulated several different scenarios to test and assess the performance of network assets in conjunction with ANM. These included assessing the impact of controlling elements such as voltage regulator (line and/or distribution transformer), combinations of load and generator as well as a storage system in various network conditions.
Landis+Gyr's ANM solution delivers distinct customer benefits:
Renewable Energy Source Control through managing decentralized generation reduces impact on the upper layer network.
Active Voltage Regulation provides improved power quality, reduced losses and longer lifetime of distribution transformers.
Predictive Capacity Management involves balancing energy demand and supply within the network capability limits, which reduces impact on the upper layer network by creating self-sustainable microgrids.
Delivering real time data and values from the network to the upper layer systems ensures effective power system visualization and data analytics.
With Landis+Gyr ANM, successful operation of the microgrid as a part of the larger smart grid infrastructure becomes a reality. The platform is able to predict mismatch between electricity demand and supply in the selected region, automatically applying corrective measures to the grid, hence maximizing its operational efficiency and reliability.
Tecnalia is the first applied research center in Spain and one of the most prominent labs in Europe with around 1500 staff, €110 million turnover and over 4000 clients participating in various European smart grid projects.