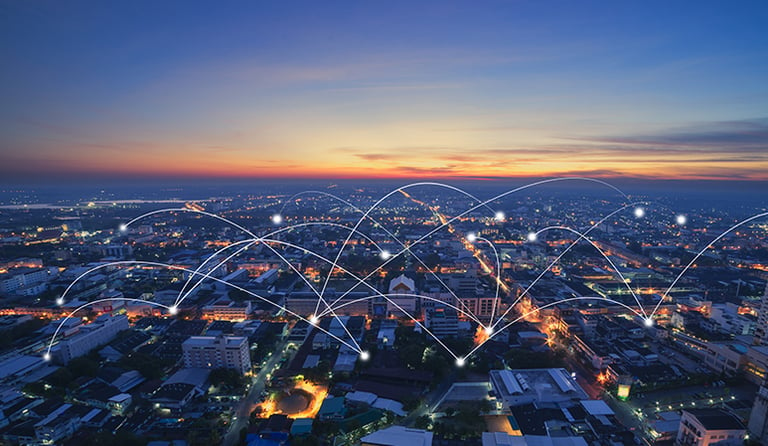 Smart electricity meters have become key devices within the Internet of Things. Connected to utilities' systems and platforms, they collect, deliver, and analyze data to manage energy better. Reliable cellular and secure communication technology is essential here. Finding the right partner and set-up can be a complex undertaking.
Cellular communication technology, SIM cards, metering points and their location, data volume, security – the list of items to consider and understand when it comes to connectivity is long and still only the tip of the iceberg. A lot is happening underneath the surface which utilities need to face before they can implement secure and reliable communication with efficient TCO. Questions around the right meter technology, the IT and OT environment with the necessary security standards, service lifetime, or troubleshooting are just a few examples. Backed by our worldwide partnership with Vodafone Business, a global leader in IoT communication solutions, we are launching a unique solution of embedded connectivity within our smart devices, delivered as a sustainable long-term service.

One of our goals was to come up with a solution supporting utilities, in response to the challenge of having to manage different technologies such as hardware, software, or communication from various vendors with multiple support centers. Removing those challenges, either in the initial selection phase or predominantly over the service lifecycle, by providing fast and competent support from a single source was a driver as we shaped this offering. The Landis+Gyr cellular IoT Connectivity solution allows utilities to focus on their core competences and to reduce complexity within their daily operations, leading to higher efficiency and cost savings.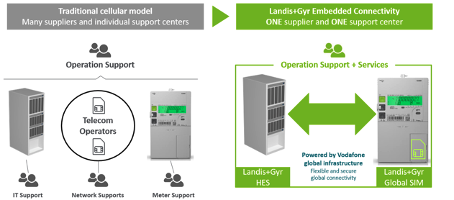 The customers benefit from less demanding integration and deployment through the incorporation of the communication technology already into the smart device itself and having it fit smoothly with our Landis+Gyr secure hardware and software infrastructure, as an easy plug & play solution. Last, but not least, this "embedded connectivity" gives utilities plannability and transparency around warranties and coverage based on clearly defined Service Level Agreements Agreements over the entire lifecycle of their smart devices.
The service: A single provider for smart metering, IoT connectivity – and more!
Through IoT Connectivity as a Service, Landis+Gyr offers industry-leading conditions for public cellular connectivity infrastructures and a service tailored to the needs of smart metering. It includes service levels beyond what a domestic single carrier (Mobile Network Operator or Mobile Virtual Network Operator) offers today, including a guarantee of service for the lifetime of 10 years and optional extension to the entire lifetime of the smart device. Utilities benefit from unmatched coverage and availability for any cellular communication type with no additional roaming charges. Security is key. Seamless integration ensures high security end-to-end connection from the meter in the field to the head-end systems.
The solution architecture: Seamless integration and flexibility with end-to-end security
Landis+Gyr's cellular smart residential, commercial, and industrial meters (E360, E570, E650, E660 and the data concentrator DC450) connect to 2G, 3G, 4G, LTE-M and NB-IoT. Communication technology is already integrated and pre-activated in the delivered device. It can also be retrofitted after deployment and fits with Landis+Gyr's data management software platform (HES, AIM and Converge). An included proprietary Landis+Gyr APN ensures a seamless and secure end-to-end solution from meter to backend.
Optionally, a private APN dedicated to a customer can be set up, ensuring an additional layer of secure operation. Additional monitoring and reporting via our service IoT platform grants access to all relevant data and reports in real time. Therefore, we can say, that by turning cellular IoT connectivity into a service, we are moving away from traditional cellular modules beyond data volumes and SIM cards. The approach of embedding connectivity and making it an integrated part of the overall smart metering solutions boosts efficiency, reliability, coverage and end-to-end security, while dealing with a single reliable partner!
Read more on our website: IoT connectivity as a Service
If you would like to know more about the solution or receive an offer from us, please get in touch: