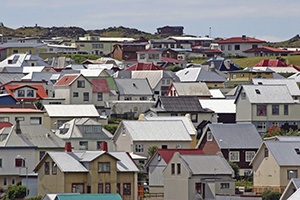 Landis+Gyr recently won an open tender to supply a complete heat metering solution to the state-run energy supplier HS Veitur in Iceland.Heated fresh water from a combined heat and geothermal power plant is pumped directly to private homes and businesses to provide domestic heating across the Reykjanes region. Up to now, customers have been billed based on fixed consumption of hot water. The fixed consumption level can be achieved by limiting the maximum throughput during specific time slots. However, in some cases bills have been calculated based on manual meter readings in each building.
The new end-to-end solution from Landis+Gyr includes T550 heat meters as well as communication infrastructure and Advance software system that offers integration into the customer's ERP system, allowing meter readings to be taken remotely. As a special request in the tender process, the customer required walk-by readout capabilities, as a fallback option. Landis+Gyr were able to provide this functionality with seamless integration into the overall remote data collection software.
Along with remote meter reading, the customer also has another functionality: the temperature and metering data collected allows Veitur to gain an overview of the performance of their heat distribution network. Increased network visibility will enable the energy provider to quickly identify and resolve network issues resulting in significant operational cost savings.
It has also been a project of firsts for Landis+Gyr heat business. "We used a unique setup in the bid process that will also be carried over into the installation phase," says Thomas Koch, Sales Manager for the Business Line Heat in Nuremberg. "The Landis+Gyr project team included various specialists from four countries: Finland, Germany, Czech Republic and Slovenia where our competence centers are located. To deliver a high quality end-to-end solution to our customers, we mobilized internal resources in different business units and functional areas.
" The first batch of devices has already been delivered and the meters are currently being installed by the customer. At the beginning of September, a team of experts from Landis+Gyr spent about two weeks in Iceland, training Veitur technicians on use and functionality of the new system. Following a handover, Landis+Gyr will continue to provide remote support, when needed, during the customer's mass rollout phase. Plans call for 600-700 units to be installed in 2015, with the balance of the almost 6,000 units then installed in 2016 and 2017.
During the planning phase, Veitur showed interest in other potential use cases for the network infrastructure, in particular electricity meters. In October of this year, a pilot program will be run, installing 20 electricity meters for one-way billing communication using the same wireless M-Bus/OMS infrastructure that is installed for the heat meters. If this pilot is successful it could lead to a larger project to install smart electricity meters across Veitur's entire network.