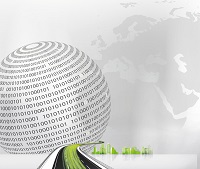 The solution features a smart meter communication gateway that complies fully with the stringent regulation imposed by German regulators.
Europe's energy management system is on the cusp of a major transformation towards Smart Metering. And the fact that Germany, Europe's largest economy, is finally picking up pace on the path to the smart world is an indication for the sincerity of that change.
EnBW, one of Germany's leading utility company, and Landis+Gyr partnered to help shape this transition which is occurring under the aspect of Germany's own energy transition. The partners have bundled their competencies for implementing the new legislative Smart Metering requirements, with an innovative and demanding security architecture.
During a live demonstration at this year's E-World in Essen, Germany, Landis+Gyr demonstrated the functions of the new S560 Smart Meter Gateway in conjunction with the E350 electricity meter, and the new Gridstream® Administrator and Gridstream Data Reception Manager Applications. At the booth, customers received first-hand live impressions of data read-outs, transmission to a display, and load control functionality. "We developed both, the Smart Meter Gateway and the Applications from scratch, and can now show first use-cases of our end-to-end solution for Germany," says Elisabeth Weikmann, Senior Manager AMM Initiative, Landis+Gyr EMEA. "We were able to leverage our broad experience in other European markets, and our extensive domain expertise in Smart Metering Solutions from our existing technology and product platforms." She adds, "It was important for us to deliver a prototype that gave our customers peace of mind in terms of total compliance with regulatory requirements."
Getting ready to launch in 2015
The prototype was developed according to the requirements of the three German regulatory agencies involved in the process.
EnBW and Landis+Gyr will install and run a total of 10,000 smart metering endpoints in the German State of Baden-Wuerttemberg. At the same time, the Gridstream application software suite will be put in place, and integrated to the EnBW IT Backend. In this way, the partners will gain fundamental insights into the performance, potential uses and interoperability of the technology. "The prototype allows us to start testing the functionalities of the regulation compliant gateways in the lab and in the field," says Dr. Peter Heuell, CEO, Landis+Gyr, Germany. "In 2015, we expect to see the first certified devices and will bring a fully integrated end-to- end solution to market."