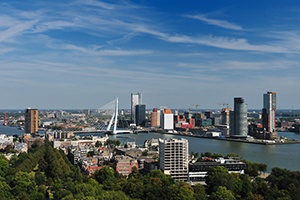 This July, Landis+Gyr was awarded a major contract to supply an initial 3 million smart electricity and smart gas meters to the Netherlands' four distribution network operators: Liander, Stedin, DELTA Netwerkbedrijf and Westland Infra. Publicly tendered contracts worth a total of €470 million have been signed with each network operator with an option to extend, which could lead to further orders for smart meters in the future. According to national regulation, energy companies are obliged to install smart meters in every Dutch household by 2021.
Landis+Gyr' products accounted for the lion's share in the pre-rollout phase to install smart meters in more than 500,000 households. "Winning this public tender marks a continuation of Landis+Gyr's long-standing relationship with these four network operators and will bring tangible benefits to Dutch consumers as well as strengthen the energy supply system," says Coco Geluk, Managing Director of Landis+Gyr Netherlands. "Our winning tender to supply the Dutch market not only demonstrates a vote of confidence in Landis+Gyr smart meters but is also a significant success for Landis+Gyr in Europe," adds Oliver Iltisberger, Executive Vice President Landis+Gyr EMEA.
The Landis+Gyr smart meters will each feature a communication port that enables consumers to display their energy consumption on an in-home display or alternatively, connect to a home energy management system (HEMS). This functionality will give Dutch consumers the ability to have direct feedback and control of their energy usage.The Dutch utilities Liander and Stedin explain that their decision to launch a joint tender was based on their shared vision to organize a large-scale rollout project, with CDMA 450 as the communication technology. The participation of Delta and Westland Infra will ensure total coverage of 70 percent of the Dutch network. Completing these orders represents a significant step towards making every home in the Netherlands a smart home.