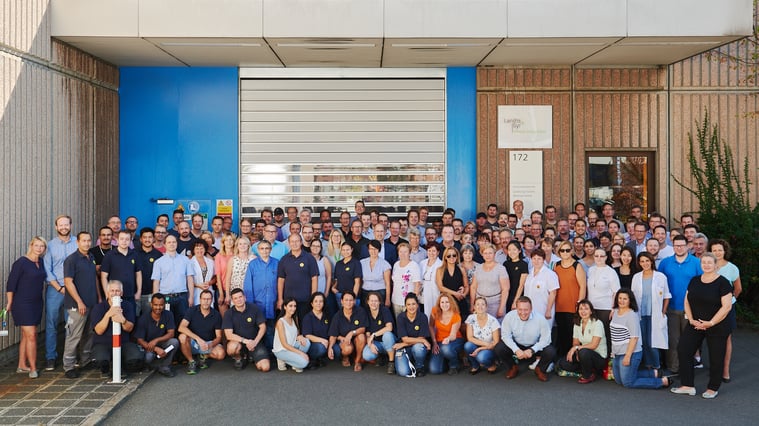 Landis+Gyr has reached a company record at its Nuremberg production facility with the production and delivery of its five-millionth heat meter. This is a great achievement for its 220+ employees on the site and a remarkable success story for the company's international Center of Competence (CoC) for both heat and cooling meters.
District heating and cooling network meters are the core products of the German branch of Landis+Gyr. The company's Center of Competence Heat is based at the Nuremberg site, in which up to 700,000 ultra-modern metering systems are manufactured for customers all over the world. This manufacturing line has seen a steep increase in production volume, which sat at approximately 20,000 heat and cooling meters each year in the early 2000s. Landis+Gyr's five-millionth ultrasonic heat meter was recently delivered to its customer, Energieservice Westfalen Weser – and will measure the heat supply of the leading energy supplier in Germany's East Westphalia-Lippe region and the Weserbergland.
"We are proud of this positive development and this milestone in our company's history which was achieved by our Nuremberg facility. We now have more than 220 team members who work very hard for us to succeed every day. It is thanks to their efforts and the constant expansion and modernization of our production that we have been able to compete successfully with our global competitors for many years."


Herbert Brunner, Vice President Heat Metering at Landis+Gyr
Future-proof and efficient metering solutions
Today, Landis+Gyr develops and assembles more than 25,000 different meter types in Nuremberg – from residential meters to large-scale units for housing complexes and commercial and industrial plants, all of which use modern ultrasonic technology to measure heating and cooling energy consumption precisely.
In view of the increasing digitalization Industry 4.0 is bringing, a number of modern software tools, apps and flexible communication modules in the Landis+Gyr portfolio will ensure its metering solutions are future-proof. In terms of data transmission, Landis+Gyr relies on the open LoRaWAN standard, which has a range of up to 15 kilometers and secures an interference-free transmission, even within buildings and in basements. It is therefore ideally suited to reading of consumption data remotely.