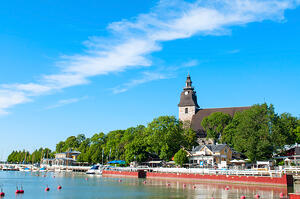 Naantalin Energia, a small utility owned by the city of Naantali in south-west Finland, provides electricity to the municipality's domestic and industrial electricity users – about 10,000 in total.
As part of ongoing plans to enhance and improve network power quality and service, Naantalin Energia recently implemented, with Landis+Gyr, a pilot to demonstrate a PowerSense MV/LV Monitoring and Control solution.
Sensors have been added to existing transformers in the field on the medium voltage (MV) network, so that the system is able to visualize the actual network status.
The technology has also been installed inside a distribution substation for the utility to identify and detect the cause of failure and location. Such a level of detailed information enables distribution system operators (DSOs) to isolate defect areas more rapidly and also recover power supply to undamaged areas by supervising the remote controlled switches, all of which helps resolve outage times for customers. In addition the information received with the help of the Monitoring & Control solution will help utilities avoid overloading of the transformers.
The end-to-end solution is realized through retrofitting sensors onto the existing medium and low voltage power cables, transformers and switch gears, allowing DSOs and utilities to prepare their assets for the future integration of distributed energy resources, electric vehicles and new power storage patterns.
While all types of utilities will benefit from their power grids becoming digitalized and automated through sensor-based hardware and intelligent software, for a small utility such as Naantalin Energia the value of this solution lies in its ability to identify and rectify issues that traditionally would require sending technicians and engineers out into the field, a costly endeavour in terms of both time and resources.
"The modular solution can be retrofitted and scaled up, as part of utilities' stepwise smart grid investment strategy," explains Landis+Gyr's Solution Consultant Sami Haapamäki.
"Following the PowerSense acquisition, Landis+Gyr now provides the tools, not only to measure and monitor, but also to act, through automating the network," he says.
An additional benefit of the technology is its ability to monitor power quality on the low voltage (LV) side of the network, which will become increasingly important as consumption behavior changes and as more renewables are installed. To gather all of this data from smart meters – the nodes at the end of the LV network – would be extremely challenging , especially in high volume installations, which can run into tens of millions. Landis+Gyr's MV/LV Monitoring and Control solution enables analysis of consumption behaviour in a condensed form, according to Haapamäki.