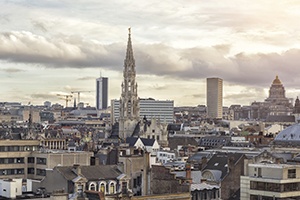 This July, Landis+Gyr won a tender to install ripple control (RC) command units for Sibelga and ORES, two of Belgium's eight distribution system operators (DSO). Sibelga supplies electricity to almost 700,000 connection points in the Brussels metropolitan area while ORES, the second largest DSO in Belgium, supplies power to a total of 1.4 million homes and businesses located in 198 municipalities in Wallonia, in the south of Belgium.
With the ripple control receivers already installed, Sibelga was looking to invest in 47 new generation command units to manage their RC receivers in Brussels and at the same time ensure that the new technology provides enough flexibility for future-ready business applications.
Installing a homogeneous future-proof set of technology across their distribution network will make it much easier for ORES to maintain and adapt the network in the future. ORES anticipates that it will need at least 127 state-of-the-art command units for tariff switching, public lighting and potential network management via seamless integration into their SCADA (supervisory control and data acquisition) environment.
The RC solution SGC50 chosen by the customer is built using cost-efficient PLC technology and has more than 15 years of reliable service. The RC system provides secure load switching: boilers, heaters and air conditioners are controlled reliably and in real time, enabling utility managers to act on network issues within seconds. Communication between local substations and central control units is based on the IEC 61870-5-104 Internet protocol which allows simultaneous data transmission between multiple devices and services. With the growth of renewable power generation, energy companies will have to deal with variability and uncertainty of loads in the network. The SGC50 future-proof approach allows load management architecture to interconnect with the existing SCADA system, delivering additional distribution intelligence to utility operations by leveraging data provided by RC systems.
"We're convinced that using a homogeneous park of local command units will streamline daily maintenance processes and introducing the IEC 61870-5-104 standard will contribute to making the ORES and Sibelga networks smarter," says Stephan Vandecasteele, Regional Manager Belux Landis+Gyr.