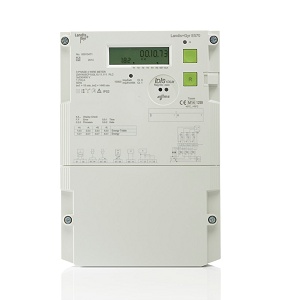 Landis+Gyr presents its first current transformer (CT) connected IDIS compliant smart meter for low voltage commercial, light industrial and high consumption residential customers.
With this new product, Landis+Gyr delivers yet another advanced metering solution that focuses on specific needs of the high current low voltage (LV) segment of the AMI market that couldn't be addressed by technical capabilities of direct connected meters. The E570 has a flexible open architecture and is tailored to utilities' demands, such as powerful automatic meter reading, power quality measurement, LV transformer monitoring and load and demand control. Moreover, large scale deployment of this solution will allow high current energy companies to comply with the binding measures stipulated in the 2012 EU Energy Efficiency Directive.
The E570 series is based on the proven platform of Landis+Gyr's flagship residential E450 meter and integrates selected functionalities of the leading industrial & commercial E650 meter family. Currently, E570 is available with PLAN+ PLC two-way communication and cellular point to point 2G GSM/GPRS via the exchangeable E57C communication module. More configurations will be added to the meter family as the product continues to develop.
The meter's extensive registration concept combined with the large storage capacity produces a comprehensive collection of smart data that delivers actionable insights for utilities. The multi-energy gateway functionality for gas, heat and water meter reading further enhances the E570 outstanding capability for centralized smart energy management.
As the market and industry evolve, interoperability becomes crucial for the success of the large scale smart metering projects. Open standards and interoperability enable energy companies to flexibly extend and adapt their infrastructure, while improving security of the supply chain. E570 has been tested and validated acc. to DLMS and IDIS (Interoperable Device Interface Specifications) protocols.
In addition, E570 complies with the high level security (HLS) specifications of IDIS package II for data communication, which makes it one of the first interoperable devices to support unauthorized access protection, data integrity and consumer data privacy acc. to the IEC 62056 standards.
E570 is one of the building blocks of Gridstream®, Landis+Gyr's end-to-end smart grid solution; both abovementioned meter versions are currently undergoing rigorous system integration testing that will be completed by the end of 2015.
Find out more about the Landis+Gyr E570 and its features and variations.