Tens of millions of smart meters installed all over Europe create huge data streams. Utilities receive hundreds of millions daily meter reads, power quality and network status adding up to terabytes of data into their systems. The question is: how to manage the available data with efficiency and precision – and how to turn it into valuable information for smart decision making?
Efficient data management
Getting maximum value from the data requires a next generation meter data management system. One that allows utilities to consolidate metering, consumption and related data from all sources in a centralized system; that standardizes data according to customer specified rules and interconnects field metering systems with a broad range of enterprise applications. One that enables use of the data with a wide range of utility operations and helps analyze usage patterns, events, system performance and programs. And one that analyzes realities in the field and translates them into meaningful, automated actions.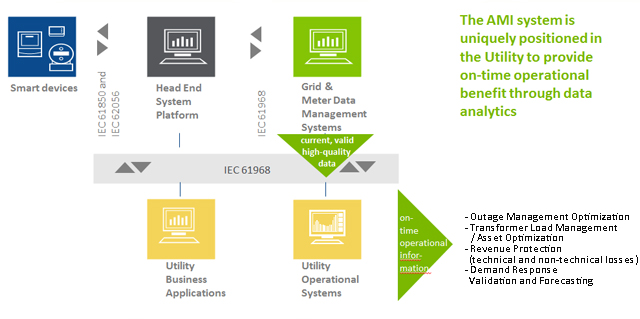 Role of MDMS
Integration Hub: MDMS provides a unifying integration point and system of record to consolidate, analyze, and normalize metering and asset data information from a variety of sources.
Data Access and Transaction Integrity: Processes and delivers valid and accurate data to/from other utility systems in support of business operations and analytics.
Data Repository / Data Governance: Provides an enterprise-wide data repository of metering and asset information. MDMS also governs data versioning, use and access.
Prepared for the future
MDMS investments have to be made to enable increased data volume. Thus it is important to understand the long-term sustainability - both operationally and technically. It's essential that the system is based on a modular structure and is capable of scaling up in size and number of integrations.
End-to-end Big Data integration
Gridstream® MDMS is part of Landis+Gyr's end-to-end solution portfolio. The meter data management system stores, processes and analyses the streams of data into information ready for usage across the utility business. Using international and industry standards, it interconnects field metering systems with a broad range of enterprise applications. Its analytic processes prepare data for a wide range of utility operations. Gridstream MDMS includes MDUS (Meter Data Unification and Synchronisation) for seamless integration with SAP IS/U. This enables end-to-end-business processes by connecting smart metering landscapes to SAP® for Utilities. The system is built on a platform that has proven its reliability and scalability in high-volume smart metering operations.
Interested to hear more? Please visit Landis+Gyr at International SAP Conference for Utilities in Berlin, April 13-15 where we're a proud sponsor of the event.