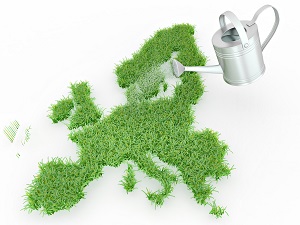 While retaining its market leadership in Europe, Landis+Gyr has been presiding over a rapidly changing marketplace.
Have all the expectations been met regarding the deployment of smart metering technologies and meeting the requirements set by the EU Third Energy Package?
It would be surprising, since an infrastructure project of such dimensions hardly ever proceeds exactly as planned. The figures show that significant progress has been made, however: following a positive cost benefit analysis for electricity in over two thirds of cases, EU member states are committed to proceeding or have already completed the rollout of smart meters. Close to 45 million smart meters have already been installed in just three member states, i.e. Finland, Italy and Sweden, representing 23% of envisaged installation in the EU by 2020.*
According to a 2014 report by the European Commission, the rollout commitments amount to an investment of around €45 billion for the installation by 2020 of close to 200 million smart electricity meters, representing approximately 72% of all European consumers and 45 million gas meters, which equals around 40% of consumers.**
Landis+Gyr has early on shifted to a strategy that focused on being a full solution provider rather than just a device vendor. This strategy has paid off; driven by a culture of strong commitment to quality and long-term vision, Landis+Gyr has been able to deploy a broad range of energy management solutions. Over 10 million of Landis+Gyr's smart meters only have been installed to date across Europe, Middle East and Africa.
Helping Europe to manage energy better
Landis+Gyr is the leading provider of intelligent devices and end-to-end AMI solutions in large markets dominated by a few utilities. Whether it's France, the UK, Spain, or the Netherlands, Landis+Gyr plays a crucial part in addressing all of those markets. Likewise, many utilities in the Nordic countries, e.g. in Finland, Sweden or Denmark have chosen to rely on Landis+Gyr's technology and project management expertise. Germany, the largest European country has taken a more conservative approach to smart meter deployment. Nevertheless, Landis+Gyr has developed products that meet specific security and technology standards set by Germany and will play a significant role there, too.
There are a few countries that have chosen a unique approach; Italy, the first country to comprehensively roll out smart metering technology on a national level, being one of them. The dominant Italian utility Enel has defined its own standards and has become a producer of devices itself rather than relying on vendors. "Enel is a former customer of ours in the residential energy sector that has become a player in this market," says Xavier Ringot, VP Smart Metering Solutions Center, Sales EMEA Landis+Gyr.
On the whole, the initiative taken by the European Commission has borne fruit: even countries like Norway, not formally part of the European Union have taken steps towards large-scale deployment of smart metering technology.
The rise of the cost imperative
Nevertheless, it is fair to say that the ambitious EU goal of replacing at least 80% of electricity meters with smart meters by 2020, of the positively assessed cases** will not be fully met. Especially Eastern European countries have had troubles defining positive business case and securing financing. "It is important to stay realistic," says Xavier Ringot. "Today, in many Eastern European countries digitalization of the distribution network is not the prime concern." Now that smart metering technology has been deployed on a large scale in Europe, a number of trends become apparent. The diversity of the national marketplaces is reflected in the approach that has been taken by the respective players. While countries like Finland have put a premium on utilizing the cutting-edge technologies, a large number of countries have focused primarily on the cost of smart metering solutions.
"Across the board, what we see is a focus on compliance with regulation rather than a drive towards using the most future-proof and high performance technology," Ringot explains. What experts familiar with the day to day reality of the marketplace recognize is the fact that there is a discrepancy between the ambitious sustainability goals that inspired the EU regulation and the implementation on the ground. "The regulation from the EU doesn't specify the capabilities a smart metering solution needs to provide", explains Ringot. The issue has been recognized and the Commission is currently putting questions to the member states regarding the functionalities of the smart meters deployed in their rollouts. Based on the answers it will receive, the Commission will decide whether further legislation on smart metering is needed.
Timing might pose a problem, because the realization of a smart grid with a high level of automation and real time grid management is only possible if utilities choose to roll out cutting-edge technology, but in most of the cases tender rules are defined in a way that technology advantages are negligible compared to low cost scoring. "We will probably see more specific regulation from the EU in the future, but there is a risk that the deployment of low cost equipment limits the performance of solutions installed until then," Ringot concludes. Despite the significant progress made, a number of European countries will probably miss out on the benefits from economies of scale that the synergies between advanced smart metering and the smart grid bring.
* Footnote 1: EC report: Benchmarking smart metering deployment in the EU-27 with a focus on electricity, 2014
** Footnote 2: Electricity Directive 2009/72/EC of the Third Energy Package
Related article