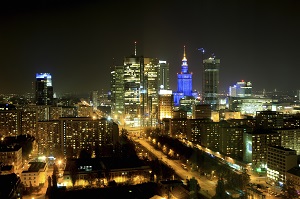 Between September 2013 and November 2014, Landis+Gyr worked closely with Polish distribution network operator (DNO) TAURON Distribution S.A. to expand their Gridstream® CONVERGE advanced metering management (AMM) system to five branches of the utility in the cities of Jelenia Góra, Legnica, Opole, Wałbrzych and Wrocław.
Using CONVERGE, overall AMM system efficiency within the DNO is achieved since CONVERGE introduces common and standardized solutions for energy measurement. This enables easy benchmarking and comparison between the five branches.
Gridstream CONVERGE meets the requirements of TAURON with regard to data management, which is to shorten the transfer time of measurement data to both external and internal clients and enable fast reporting to the Energy Regulatory Office (URE) and the Energy Market Agency (ARE).
Ultimately, the system will cover the acquisition of data from meters installed in measuring units of both MV/LV balance and auxiliary stations. The solution will also eventually be able to obtain data from 65,000 measuring points, which will require the calculation of 910,000 load profiles within a 15-minute-long averaging period.
TAURON Distribution also needed to implement changes in their measurement systems that are used to measure and report power usage and quality. CONVERGE enables the DNO to improve the efficiency of data acquisition and management required for billing, shortening this process to couple of hours, whereas previously it took a couple of days. Additionally, the CONVERGE system carries out the acquisition and processing of measurement data from boundary points, 110kV transformations and business customers from three tariff groups.
Marcin Pastuszka, Project Manager, TAURON Distribution, explains: "We needed immediate changes in measurement systems and looked for a solution that could help us meet the growing demands of our entire organization. The CONVERGE measurement system performs all the requirements."
TAURON is planning future extensions of the measurement solution to more of its network, ultimately making it the biggest measuring system, not only in Poland but also in Europe. According to Andrzej Szymanski, CEO, Landis+Gyr Poland, "Landis+Gyr is ready and prepared to support the utility's ongoing activities in this area."
Related articles