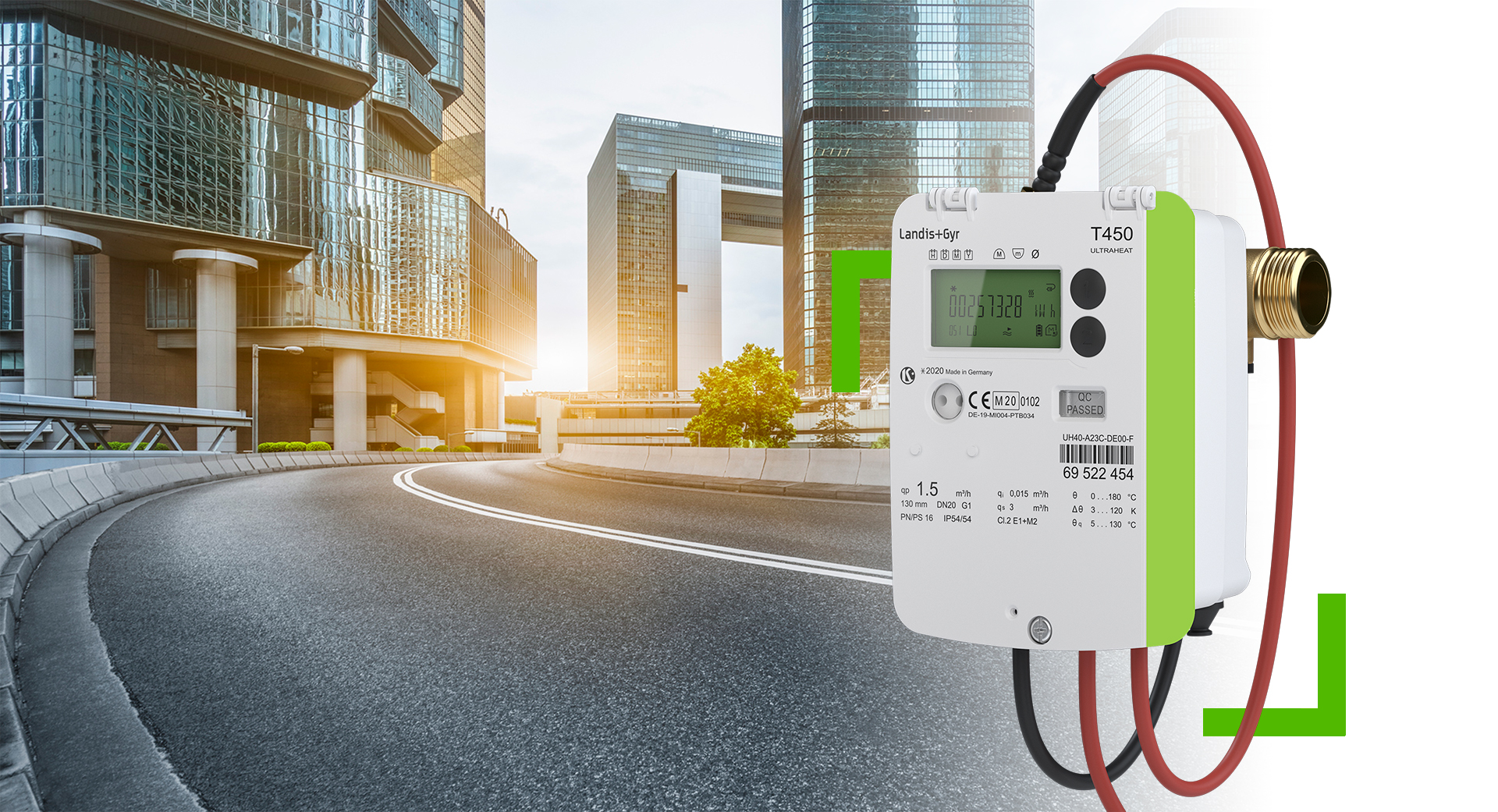 Landis+Gyr's new ULTRAHEAT®T450 ultrasonic heat and cooling meter enables homes and buildings to be energy efficient and optimizes energy usage, even in the most demanding environments.
Tackling climate change is one of the biggest challenges facing modern societies. While efforts have focused on increasing the share of renewable electricity sources, heating and cooling in buildings accounts for 50% of energy demand in the EU, with much of it wasted! This creates a huge opportunity to decarbonize through better control and management of how energy is used and consumed in buildings, whilst also reducing bills.
Making homes and buildings energy efficient requires the ability to measure heating/cooling consumption, with accuracy. The ULTRAHEAT® T450 universal ultrasonic meter produces precise and exact measuring and metering of thermal energy in residential, district heating/cooling and sub-metering applications.
The simple-to-install, low maintenance ULTRAHEAT® T450 – with its long operational lifetime – is the economical solution to energy efficiency for different types of building applications.
Key features that set the meter apart include its ease of installation, on-site configurations and robustness, even in the most demanding of environments.
By investing in the ULTRAHEAT® T450, home and building owners, district heating providers and other users can rest assured they have invested in future-proof technology that will work for many years. Communication modules, sensors and other components can be retrofitted. Furthermore, the new electronic design that supports additionally power supply via M-Bus leads to an almost unlimited battery lifetime.

Robust
The ULTRAHEAT T450 is a rugged meter module, developed for all types of environments. It incorporates DuraSurface, a special internal profile in the measuring unit, that increases the meter's resistance to soiling and other contaminants, ensuring long-life reliability and maintenance-free operation, year after year. The new stainless-steel transducers enable accurate, trouble-free operation even under the most adverse conditions.
The ULTRAHEAT T450 will continue to take exact measurements, when operating in environments that feature dust, dirt, high humidity, pressure peaks, high temperatures, vibrations, as well as jolts and knocks that can cause line misalignment. Mechanical and electromagnetic influences are reduced. The additional cover inside the calculator protects the sensitive electronics from contacts and coarse dirt.
Flexible
Versatility is at the heart of the design of the ULTRAHEAT T450. It comes with exchangeable temperature sensors, an exchangeable battery supply as well as a slot for replacing and upgrading communication modules, to ensure the device that will not go obsolete any time soon. The communication modules are equipped with electronic protection, which also functions as an insertion aid.
Due to the ULTRAHEAT T450's calibration logbook, exceptional flexibility is possible. The installation location, energy unit and sensor type can be changed or updated at any time, while the ULTRAHEAT T450 is in operation, even once commissioning has occurred. Multiple firmware updates can also be made to the meter.
The ULTRAHEAT T450 also comes with water meter pulse inputs to enable cost-effective integration of hot water and cold water metering into different communication networks.
Because the T450 adapts itself flexibly to future requirements and developments, users benefit from fewer stock variants and faster response times.
Durable
With the ULTRAHEAT T450, Landis+Gyr has created a future proof thermal meter. The device comes with battery life indicator, economical electronics combined with robust measurement technology and a construction that allows for interchanging of components and modules.
This ensures the ULTRAHEAT T450 can be used for many years, without the risk of malfunctions and need for maintenance, while minimizing need for repairs.
If the ULTRAHEAT T450 reaches the point where it no longer meets current standards, firmware updates can be made onsite to ensure the meter meets any future needs of the market.
A key feature of the ULTRAHEAT T450 is the power-over M-Bus, which makes a long lifetime without a battery change possible via the M-Bus.
Practical
The ULTRAHEAT T450 is designed for simple operation, installation and handling.
The meter features an 8-digit LCD display that includes useful symbols, such as a dynamic battery level indicator, and a loop indicator, to enable simple menu navigation. The two push buttons support simple menu navigation and are easy to press, even with the lid open.
Large installation spaces within the device allow for easy connection of communication cables and sensors. The electronic and communication modules are protected by a frame to prevent damage.
M-Bus modules have four terminals, instead of two, to facilitate daisy chaining so that junction boxes do not have to be used.
The long lifetime AA batteries with their low lithium content are easy to replace. The optical interface allows hands-free readout and parameterization with the self-retaining optohead.
Intelligent
What's the point in being tough without any brains? The ULTRAHEAT T450 thermal energy meter supplies data for billing purposes. Users can also access information on the current status, energy efficiency and usage of the heating system.
The ULTRAHEAT T450 does this by constantly analyzing consumption and then indicating areas for potential improvement within the heating/cooling system, as well as identifying potential problems within the system that may need to be fixed or addressed.
Customers can also use minimum, maximum or average values to more accurately assess whether their individual consumption is high or low.
By monitoring the consumption profile, the ULTRAHEAT T450's battery life indicator constantly calculates the remaining time until the battery requires replacing.
Would you like to know more?