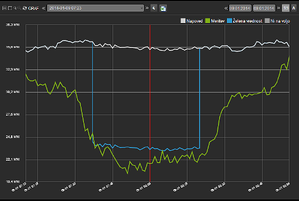 Toshiba's cyberGRID is providing efficient and reliable VPP and Demand Response technology to Slovenian utilities.
Up and running since January 2014, the Virtual Power Plant* (ELJ VPP) managed by retailer Elektro Energija and distribution system operators (DSO) Elektro Ljubljana, has been performing to the satisfaction of all stakeholders. As the system provider, cyberGRID helps the TSO ELES to reduce balancing costs and allows the retailer to increase its customer base. At the same time, electricity consumers can divert a new revenue stream their way.
CyberGRID is at the very core of Toshiba`s SMART energy solutions set, a solution portfolio designed to exploit the value of flexible energy resources in the home, business and industry and distribution grid. As such, cyberGRID forms the cornerstone of Toshiba's community solutions strategy and its goal of ensuring the continual balance of energy generation and load in an increasingly unpredictable low carbon world.
Passing the stress test
Last autumn the ELJ VPP, aggregated from commercial and industrial electricity consumers, has successfully passed a one-week stress test. This enabled VPP to bid and win the competition for 2014 tertiary reserve service for the Slovenian TSO ELES. It is a 24/7 service, with a 15-minute response time, delivering 12 MW for up to 2 hours; time between two activations must be at least 10 hours. The TSO incentivizes the VVP with capacity and energy fees.
As the most cost efficient service, the VPP has been called upon in almost every instance that the TSO has needed balancing power, more than 20 times since the system went live. "Frequent activations bring us additional revenue and are environmentally sustainable; it certainly justifies our decision to join this Demand Response program", says Mr Rado Kunavar, technical director of Pulp and Paper mill, which forms part of the MM Karton Group. Igor Podbelšek from retailer Elektro Energija stresses that "innovative solutions like VPP deliver high added value to our customers, which enables us to be more competitive on the electricity market".
Tertiary reserve is just one among many innovative services Elektro Ljubljana plans to introduce in the future. "Integrating existing smart metering and microgrid concepts into a fully functional VPP lays a solid foundation for advanced customer services that significantly contribute to overall energy value chain optimization." concludes Mr Igor Volf from Elektro Ljubljana Distribution Company.
* Virtual Power Plant is a modular and scalable system that acts as an economical optimizer for flexible energy demand management, allowing the creation of advanced Demand Response schemes in the near-real time mode.
Picture: Example of supplied ELJ VPP tertiary reserve to the TSO