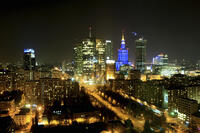 Landis+Gyr will deliver smart meters and software solutions to a Polish utility RWE. RWE's first installation of smart metering technology in Poland will focus on residential buildings in Warsaw. Deliveries have started in September and full system installation is scheduled for the end of 2014.
Landis+Gyr will deliver its Gridstream® end-to-end solution, including 50,000 smart meters and Gridstream AIM software. The system will have an interface to RWE's existing IT infrastructure and will help optimize the customer's asset management. Landis+Gyr will also provide billing services for a period of four years.
RWE operates a number of companies in Poland, including RWE Polska and RWE Stoen Operator. RWE Polska, together with RWE East, is responsible for supporting the development of the Group in Poland. RWE Stoen Operator manages the Warsaw power network.
The deal was preceded by a pilot where a number of providers showcased their technology; Landis+Gyr's Polish team was able to convince the customer of their technology and win a public tender launched by RWE. "This is a significant milestone for Landis+Gyr," says Andrzej Szymanski, Country Manager for Landis+Gyr Poland, "We are delighted to contribute to the development of smart metering in Poland with this project in the capital." Landis+Gyr's solution will enable the advancement of distributed generation which is to play a major role in the future energy market.
Improving the system as a whole
Between 2014 and 2019, RWE plans to channel 25 percent of its investments towards the rollout of smart infrastructure amounting to 420 million Polish Zloty (approximately 100 million Euros). In the first stage of the project, slated for completion by the end of 2014, RWE will install 25,000 smart meters in residential buildings in Warsaw; full project completion is scheduled for December 2015. RWE will also invest in its network, overhead high voltage lines, as well as in medium voltage cable lines in urban areas.
There has been rapid smart metering development in Poland in the last years. The Polish National Energy Conservation Agency as well as the country's three largest consumer organizations signed a declaration in June 2009 calling for the rapid introduction of the technology. "Implementation of the smart grid concept in the area of our operation will essentially improve the level of energy efficiency of the system as a whole," says Agnieszka Nosal, Board Member of RWE Stoen Operator responsible for AMI investments.