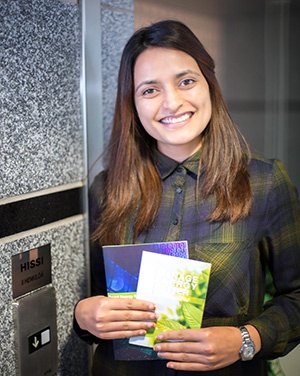 Landis+Gyr is an international place to work. Nepalese Kritika Katwal works in Landis+Gyr's R&D center in Jyväskylä as a Testing Designer while completing her Master's degree in computer science at the University of Eastern Finland. She told us more about working in Landis+Gyr and choosing Landis+Gyr as her workplace.
"I work as a Testing Designer in Software R&D Platform and Architecture team. We are developing next generation software platform. We build tools and extensions that offer for example user access management for Landis+Gyr Gridstream Applications. As a test designer I work my best to improve the efficiency of the product. With most open source tools and technologies we maintain our environment advanced to improve performance of what we do.
I work with a bunch of talented, ambitious and most supportive people. We have a common aim to achieve the best quality on what we do. When keeping our goals high we have to accept the challenges and do our best to achieve the best results. Our team is full of creative thinkers thriving to move towards to the next level. In our team there's a great atmosphere of encouragement to new ideas and thoughts that makes you grow from what you are. With the common practice of togetherness within our team these are the key sources when we pursue our goal to taking Landis+Gyr products and reliability to the highest level.

I was one of thousands of international students looking for work opportunity in Finland. I wanted to find an advanced environment to learn from experts and grow as a professional. For me, Landis+Gyr is the best opportunity to enhance career and work in one of the leading energy management companies in the world. I'm impressed of all the professionals working here. Working with those people who have contributed to this sector so long is really a great opportunity."
Want to join our international team? Please check: http://eu.landisgyr.com/betterfuture