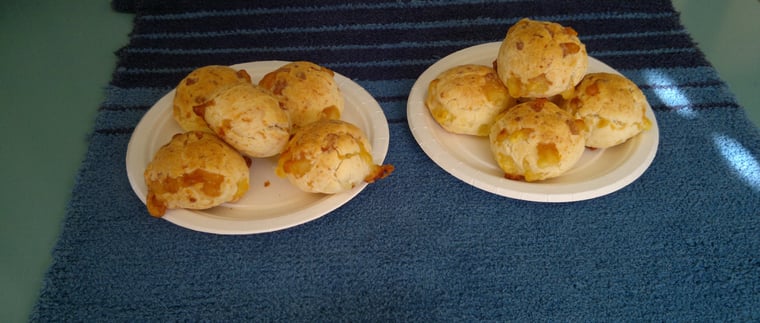 On a nice warm and sunny May 4th, 2016 around 22 of our Jyskä colleagues joined together to learn and taste some of the South-American culture. The event was organized by Landis+Gyr's leisure and activity club Virtapiiri and presented by our GRD SW Consultant Nassor from Brazil and by our GRD SW Testing Designer Maria from Argentina.
We found out some interesting facts. For example; While Brazil is known for the heat and dangerous jungle there's also a pretty big desert and they have around three weeks of snow during their winter! They even have their own 'Little Finland'! If you decide to go fishing on the coast without a permit the chances are big that you will find yourself in prison shortly after. Whereas Portuguese is the most common spoken language in Brazil, in Argentina Spanish is the most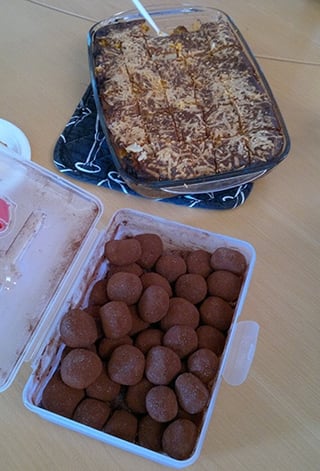 common and over 60% of the population has an Italian descent. There are some really pretty sights, like huge waterfalls, which can be seen both from Brazilian side as well as Argentinian side. There are some varied thoughts about from which side these falls look better.
We had the chance to taste some local delicacies as well. From Argentina 'Mate & Chipa', a special type of herbal tea and cheese-filled pastries. Mate is about as popular in Argentina as coffee is here in Finland. The big exception is that Mate is often enjoyed together with friends, family, etc. where each 'shares' the drink by drinking from the same container. The Brazilian delicacies consisted of Brigadeiros, a sweet ball made with cacao powder, and Empadão de Frango, a kind of chicken pie.
A mini quiz on Argentina and some exotic Brazilian music rounded up another successful multi-cultural event.
___________________________________________________________________________________________
On request Maria gave us her recipe for making Chipa yourself:
Chipa Ingredients:
1 kg of manioc (also called cassava or yuca) starch
200 g. of butter
1 kg of cheese (80% of a cheese such as emmentaler or old gouda + 20% parmesan)
6 eggs
1 spoon of salt (approx.)
3 dl of milk (approx.)
Let the butter get soft and mix it with the eggs, milk and salt. Add the flour and mix until it looks uniform. Grate the parmesan cheese and cut the other cheese in small cubes. Add the cheese to the dough and mix (note: the dough is supposed to be tough, but if it is too dry and doesn't stick together, then add a small amount of milk). Form balls of approx. 40-50gr. Bake in pre-heated oven (190-200 degrees) for around 20 minutes, or until they are golden brown. (note: if the oven is not hot enough, then the balls will get flat). Chipa balls can also be frozen and then baked when needed. The amount and type of cheese used can be varied to taste.
_________________________________________________________________________________________
Related articles: